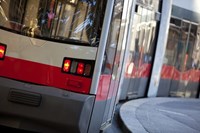 Construction on the CBD and South East light rail project has entered a new phase with the first section of track laid today in Kensington.
Premier Mike Baird and Minister for Transport and Infrastructure Andrew Constance were on hand as a 60-metre section of track was cemented in place on Anzac Parade. More tracks will be laid in multiple zones over the coming months.
"It's great to see another of our major public transport infrastructure projects taking shape," Mr Baird said.
"Light rail will change the way people commute through the heart of our city - we once again thank residents, businesses, commuters and motorists for their patience as construction powers ahead."
Mr Constance said today was a major milestone in delivering a project which will encourage people out of their cars and onto reliable public transport.
"We all know congestion is getting worse in Sydney and with daily trips to the city centre expected to increase by almost 25 per cent by 2031, this will help bust congestion," Mr Constance said.
"Light rail will move up to 13,500 customers in both directions between 7am and 7pm and when combined with express and local bus services, will bring increased transport capacity of up to 30 per cent in the morning peak."
Coogee MP Bruce Notley-Smith said: "Today's laying of light rail tracks is an historic moment for the eastern suburbs community as this long overdue transport infrastructure is finally being delivered. If we promise something we deliver it."
The 12-kilometre light rail route links Circular Quay and the CBD to Randwick and Kingsford via Surry Hills and the Moore Park sporting precinct.
Nine hundred people are currently working on the project, which will rise to 1500 at the peak of construction. Almost 15 of 31 construction zones are now live including work on the tunnel under Anzac parade at Moore Park. The new line will be completed and operating in 2019.
About Transport for NSW
Transport for NSW is responsible for improving the customer experience, planning, program administration, policy, regulation, procuring transport services, infrastructure and freight. Transport operating agencies have been freed up to focus on service delivery – providing safe, reliable, clean and efficient transport services.