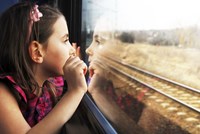 FirstGroup plc ('the Group') has been granted approval to launch open access rail services between London, north-east England and Edinburgh offering great value fares and high-quality service, whilst giving passengers on the route a new travel choice.
The ten-year track access rights application approved by the Office of Rail and Road (ORR) will enable the Group's East Coast Trains Limited to begin operating five trains a day each way from London King's Cross to Edinburgh, via intermediate stations at Stevenage, Newcastle and Morpeth, by 2021. Passengers will benefit from an average fare of less than £25, free Wi-Fi and on-board catering, all offered in one high-quality class of travel.
The new service is designed to provide choice for passengers looking to travel between London, north-east England and Scotland, and will encourage travellers to switch from air or coach travel to rail.
Tim O'Toole, Chief Executive, commented:
"I'm pleased that the ORR has granted track access rights for our unique low-cost service between London, the North East of England and Edinburgh. This is great news for passengers, as our new service will widen the choice of travel options between these cities and offer an attractive alternative to those available today.
"We will offer genuinely low fares at half the average price of today, while adding significant benefits to the UK economy. Our brand new trains will be cheaper than other rail services, greener than the plane, quicker than the coach and will get passengers from London to Edinburgh earlier than they can arrive today, all for an average fare of less than £25.
"Now that our application has been approved and we have been granted rights we will implement the next steps to deliver our proposals which include discussions with Network Rail and rolling stock manufacturers."
Notes
FirstGroup's application was approved at a meeting of the ORR board in April after an extensive industry consultation lasting more than a year. The Competition and Markets Authority (CMA) reported in March on competition in passenger rail services, suggesting that further open access operations could realise even greater benefits for rail passengers. Low fares will persuade many passengers to make the greener switch to rail, and business travellers will benefit from the first service of the day from London arriving in Edinburgh by 10am, one hour earlier than is possible now by current rail services. Five brand new state-of-the-art intercity electric trains will be introduced, offering an additional 1.5m seats on the route every year. FirstGroup also operates TransPennine Express services to Newcastle and Edinburgh and recently began a new franchise on the route which will see more than £500m invested to transform rail services across the North of England and into Scotland. FirstGroup already has extensive experience running an open access operation that fills a vital gap in the market. First Hull Trains regularly receives amongst the highest customer satisfaction scores in the country – scoring 97 per cent in the autumn 2015 Transport Focus National Rail Passenger Survey. First Hull Trains makes 90 journeys a week on the East Coast Mainline between London and Hull and transports more than 750,000 people annually – a ten-fold increase since inception.
About FirstGroup
FirstGroup plc (LSE: FGP.L) is the leading transport operator in the UK and North America and our services help to create strong, vibrant and sustainable local economies. During the last year around 2.4 billion people relied on us to get to work, to education, to visit family and friends and much more and, each day, every one of our 110,000 employees works hard to deliver vitally important services for our passengers.
Our vision is to provide solutions for an increasingly congested world… keeping people moving and communities prospering.
About First Rail
FirstGroup is one of the most experienced rail operators in the UK and the only one to run every sort of railway – long distance, regional, commuter and sleeper operations. We carried more than 280 million passengers in 2014/15. We operate two passenger franchises – Great Western Railway (GWR) and TransPennine Express – and one open access operator, First Hull Trains. We operate the Tramlink network on behalf of Transport for London carrying more than 32 million passengers a year and the Heathrow Connect service in partnership with Heathrow Airport.