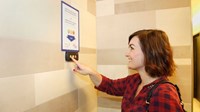 Frankfurt Airport (FRA) introduces a standardized passenger feedback system for use during all important phases of the travel process.
The new system will be available at key locations and functions across Terminals 1 and 2, including security checks, sanitary facilities, information counters, and the Lost & Found office. Passengers can directly voice their opinions about services right where they are provided. In return, it enables Fraport to just as quickly and efficiently respond to the real-time feedback.
The system could hardly be more intuitive: passengers simply click on a "smiley button" – green for positive, yellow for neutral, or red for negative – to answer a feedback question. Especially where the very important aspect of cleanliness is concerned, the system adds considerable value by enabling the airport's operator to instantly pinpoint and remedy any shortcomings. This can make a crucial difference during hours with peak passenger traffic volumes.
Fraport AG, the airport's operator, has been consistently committed to continuously improving the customer experience and quality of service at Germany's largest aviation hub, as expressed in its slogan "Gute Reise! We Make It Happen". Other examples are the Frankfurt Airport App and free Wi-Fi.
About Fraport
Fraport AG is among the leading groups of companies in the international airport business. With Frankfurt Airport, the company operates one of the world's most important air transportation hubs. Frankfurt Airport has become Germany's largest employment complex at a single location, with more than 500 companies and organizations providing jobs for more than 80,000 people (including staff employed at The Squaire and the Gateway Gardens).
As an experienced airport manager, Fraport is expanding Frankfurt Airport together with partners into Frankfurt Airport City – an outstanding real-estate location and gateway of mobility and excitement. In addition to covering the full range of airport services, Fraport AG is a competent partner in airport retailing and real-estate development.
As a full-service provider in the airport management field, Fraport AG is active on four continents through investments and subsidiaries. In 2014, the Fraport Group generated € 2,4 billion revenue and Group profits of € 252 million.
With its associated companies and subsidiaries Fraport AG is active around the world.