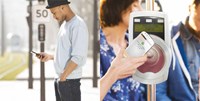 Heads of four leading public services and companies in France—Elisabeth Borne, Chairman and CEO, RATP; Guillaume Pepy, Chairman, SNCF Executive Board; Olivier Piou, CEO, Gemalto; and Stéphane Richard, Chairman and CEO, Orange—announced the creation of Wizway Solutions*, a joint venture dedicated to developing contactless mobility solutions. The consortium is supported by France's Ministry for the Economy, Industry and Digital Affairs and Ministry for Transport.
Wizway Solutions, the world's first consortium dedicated to contactless mobility, harnesses the expertise of each of its four partners to offer Transport Organising Authorities (TOAs) and transport companies a modern and simple ticketing solution that will facilitate door-to-door travel.
Advances in technology and increased use of mobile devices together create an environment conducive to contactless solutions. These solutions are also a major vector for promoting door-to-door mass transit options and paving the way for ever more sustainable mobility.
Using mobile devices that are compatible with NFC (near field communications) technology, passengers will be able to purchase all types of tickets—single fares, railcards and more—anywhere, anytime with their carrier's or TOA's app, and store these tickets securely on their SIM card. When travelling, passengers will simply pass their cellphones over readers or terminals, or present them to agents checking tickets. A mobile device will suffice for travel, even if it is out of battery or switched off.
The solution offered by Wizway Solutions incorporates two industry standards: Calypso, a contactless international standard that is widely used in France, and NFC (near field communications) technology for mobile phones. It will be compatible with the various operating systems used by mobile phone manufacturers as well as those of telecoms operators in France and, in the medium term, on international markets.
The four founding members each hold 25% of Wizway Solutions, which remains open to other operators and carriers. The current timeline calls for its products to be made available to TOAs and transport companies in 2016, and to be deployed in the general public in 2017.
To mark the founding of Wizway Solutions, heads of the four founding partners commented:
Elisabeth Borne, Chairman and CEO, RATP:
"RATP has been promoting innovative ticketing since we launched our first contactless pass, and Wizway Solutions meets our aim of combining sustainable mobility with smart city life through new digital services that facilitate travellers' daily commute."
Guillaume Pepy, Chairman, SNCF Executive Board:
"This innovative technology will allow us to develop door-to-door transport and put mass transit solutions—which are more eco-friendly—at the heart of daily life."
Olivier Piou, CEO, Gemalto:
"Wizway Solutions is the first joint venture to create a global eco-system offering passengers innovative contactless mobility solutions. These solutions are based on a shared, open platform that respects and protects each consumer's personal data."
Stéphane Richard, Chairman and CEO, Orange:
"Consumers can already use their smartphone and NFC technologies for contactless payments via Orange Cash, and soon they will be able to travel everywhere with Wizway Solutions' tools."
* subject to approval of all regulatory authorisations
About Gemalto
Gemalto is the world leader in digital security with 2013 annual revenues of €2.4 billion and more than 12,000 employees operating out of 85 offices and 25 research and software development centers, located in 44 countries.
We are at the heart of the rapidly evolving digital society. Billions of people worldwide increasingly want the freedom to communicate, travel, shop, bank, entertain and work - anytime, everywhere - in ways that are enjoyable and safe. Gemalto delivers on their expanding needs for personal mobile services, payment security, authenticated cloud access, identity and privacy protection, eHealthcare and eGovernment efficiency, convenient ticketing and dependable machine-to-machine (M2M) applications. We develop secure embedded software and secure products which we design and personalize. Our platforms and services manage these products, the confidential data they contain and the trusted end-user services made possible.
Our innovations enable our clients to offer trusted and convenient digital services to billions of individuals. Gemalto thrives with the growing number of people using its solutions to interact with the digital and wireless world.