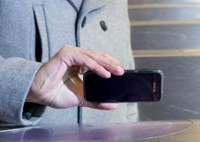 Gemalto (Euronext NL0000400653 GTO), the world leader in digital security, is supplying the Bank of the Philippines Islands (BPI) with EMV prepaid banking and transport cards that support beep 1, a contactless ticketing system for Manila Metro. BPI is one of the leading banks in the Philippines, and the first to cater to both EMV and transport payment. The two-in-one card leverages Gemalto's Optelio technology and gives commuters greater security and convenience while increasing the transaction volume and user base for financial institutions.
Metropolitan Manila is the most populous region of the Philippines where over 12 million1 Filipinos reside and work. Among them, 2 million people commute daily by trains. beep was introduced in July 2015 to facilitate transit payment and quicker entrance at train stations' gantries. It also eliminates the need to repeatedly queue and purchase tickets for commuters. With only 31 percent4 of all Filipino adults holding a bank account, integrating beepTM with banking lets financial institutions tap into a readily available and vast unbanked market.
"At BPI, we want to be able to address the changing needs of our clients. By fusing banking and transport together, shoppers can enjoy cashless payments for their purchases at Ayala Malls, plus the benefits of beepTM, which will soon be extended to other bus services," said Simon Paterno, Head of Financial Products and Services at BPI. "Gemalto's timely delivery and expertise ensured that this project can be rolled out smoothly and on schedule."
"In the banking space, Gemalto has delivered more than one billion EMV payment cards globally - from card manufacturing, fulfilment, to back-end infrastructure support and maintenance", said Michael Au, President, South Asia & Japan at Gemalto. "As for transportation, our smart cards are already being utilized by mass transit systems in 30 cities, each with a population in excess of one million."
1 Source: http://www.beeptopay.com/
2 Source: Philippine Statistic Authority
3 Source: The Manila Times
4 Source: The Philippine Star
5 Source: BPI
About Gemalto
Gemalto (Euronext NL0000400653 GTO) is the global leader in digital security, with 2015 annual revenues of €3.1 billion and customers in over 180 countries. We bring trust to an increasingly connected world.
Our technologies and services enable businesses and governments to authenticate identities and protect data so they stay safe and enable services in personal devices, connected objects, the cloud and in between.
Gemalto's solutions are at the heart of modern life, from payment to enterprise security and the internet of things. We authenticate people, transactions and objects, encrypt data and create value for software – enabling our clients to deliver secure digital services for billions of individuals and things.
Our 14,000+ employees operate out of 118 offices, 45 personalization and data centers, and 27 research and software development centers located in 49 countries.