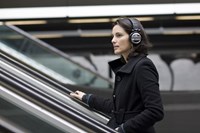 Gemalto (Euronext NL0000400653 GTO), the world leader in digital security, is celebrating a 2016 Future Digital Award from Juniper Research, a respected industry analyst, for its Celego contactless wristband for transport ticketing and other value added services. The Celego won Best Consumer Offer of Juniper's Commerce and Fintech awards category, reflecting its ability to embed a rich mix of secure contactless services in a stylish and convenient wearable.
The consumer product incorporates Gemalto's latest breakthrough in the wearables market, a highly miniaturized chip and antenna that can incorporate all the capabilities of a standard contactless travel card or pass, as well as EMV payments and other ticketing applications, for example. The Celego wristband will work seamlessly with NFC smartphones to facilitate easy reloading of travel credit.
Multi-functional contactless wearables can eliminate the need to carry cash or tickets, making them ideal for transportation as well as a wide range of other applications including major music and sporting events and venues. The Celego wristband was launched commercially in the transport sector for the first time by bus, tram and metro operator Keolis in the French city of Lille during the Euro 2016 football tournament this summer. Saracens, one of the UK's most successful rugby union clubs, has also deployed Gemalto wristbands to offer fans speedy and secure contactless payments for food and drink at the Allianz Park stadium in London.
"Contactless transactions and wearable technologies are two of the most powerful trends currently shaping the consumer domain," said Nitin Bhas, Head of Juniper Research. "The Gemalto wearable product makes it easy for providers to reap the benefits of both, making their service offers even more attractive, particularly to young, tech-savvy and fashion-conscious customers."
"Wearables add a new dimension to the contactless experience, offering end users even higher standards of speed, convenience and safety," said Serge Barbe, SVP Software and Products at Gemalto. "Naturally we are honored to receive this prestigious award from Juniper, which follows the success of the first ever commercial deployment of the Celego wristband, earlier this summer in France."
About Gemalto
Gemalto (Euronext NL0000400653 GTO) is the global leader in digital security, with 2015 annual revenues of €3.1 billion and customers in over 180 countries. We bring trust to an increasingly connected world.
Our technologies and services enable businesses and governments to authenticate identities and protect data so they stay safe and enable services in personal devices, connected objects, the cloud and in between.
Gemalto's solutions are at the heart of modern life, from payment to enterprise security and the internet of things. We authenticate people, transactions and objects, encrypt data and create value for software – enabling our clients to deliver secure digital services for billions of individuals and things.
Our 14,000+ employees operate out of 118 offices, 45 personalization and data centers, and 27 research and software development centers located in 49 countries.