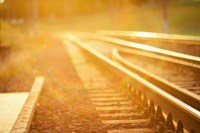 In the near future, an overland rail line traversing South America is set to achieve the equivalent of what the Panama Canal is to water – a transcontinental connection between the Atlantic and the Pacific.
The 5,000-km rail route is earmarked to cross from Santos in Brazil, through Bolivia, to the Peruvian port of Ilo. Argentina, Uruguay and Paraguay have also expressed interest in the connection. The once-in-a-lifetime project, known as the Bioceanico Aconcagua Corridor, has an estimated volume of eight to ten billion US dollars and ranges from the planning and construction of the infrastructure to the procurement of locomotives and wagons for passenger and freight transport as well as the maintenance and service. A high-ranking delegation from the German Federal Ministry of Transport and Digital Infrastructure, headed by State Secretary Rainer Bomba, is set to travel in the next few days to Argentina, Uruguay, Bolivia and Peru to apply the expertise of German and Swiss railway industry companies and develop joint solutions.
The rail industry associations for Switzerland and Germany are supporting the rail project. The SWISSRAIL Industry Association and the German Rail Industry Association (VDB) established a joint working group at the Swiss Embassy in Berlin on 1 March 2017. It is being organised under the auspices of both the SECO State Secretariat for Economic Affairs, which forms part of the Swiss Confederation's Federal Department of Economic Affairs, Education and Research, and the German Federal Ministry of Transport and Digital Infrastructure. The platform shall inform and coordinate the growing number of participating companies from both countries about the planned project. 23 companies are already members of the Bioceanico working group. It is initially bundling the interests and areas of expertise of the German and Swiss companies. Other companies interested in the project from both countries are also invited to join the Bioceanico working group.
"With the building of the once-in-a-century Gotthard Base Tunnel, Switzerland has successfully demonstrated its experience and expertise in the field of large-scale rail projects," says Swissrail Director Michaela Stöckli. "Together with its German partners, the Swiss railway industry can contribute significantly to the success of the Bioceanico project."
"Thanks to their globally leading position, the rail industries in Switzerland and Germany are predestined to contribute significantly to this challenging railway project in partnership," said VDB Chief Executive Ben Möbius. "It offers an opportunity to sustainably drive forward the logistical and economic development of the entire Latin American continent."
Participating companies from Germany and Switzerland:
Alpiq Infra AG
BÄR BAHNSICHERUNG AG
Bombardier Transportation GmbH
CE cideon engineering GmbH & Co. KG
DB Engineering & Consulting
Enotrac AG
ErvoCom International AG
Ferrostaal Equipment Solutions GmbH
Funkwerk AG
Furrer + Frey AG
Goldschmidt Thermit GmbH
ILF Beratende Ingenieure AG
KPL-Consulting UG
Kummler + Matter Ltd.
Leica
Geosystems AG
Molinari Rail AG
PCM Rail.One AG
Prose AG
Siemens AG
Siemens Schweiz AG
Stadler Rail Management AG
Thales Transportation Systems
Vossloh AG
WALO International AG
About the German Railway Industry Association (VDB)
The German Railway Industry Association (VDB) unites the manufacturers of all products for the railway operation – i.e. manufacturers of vehicles, control and safety technologies, infrastructure as well as the suppliers and service companies belonging to them – under its roof. VDB organises the expert exchange of experiences of the members and bundles the interests of the branch. What will become more and more important for the future and has already been important so far, is the representation of interests towards politics, customers, media, financial institutions and other associations – both nationally and internationally. In addition to that VDB is engaged in a fair and cooperative business relation between the system houses and the supplying industry. All this is strengthening the association and thus the whole railway industry. It is an alliance for a promising future