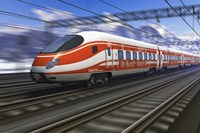 Switzerland opens its Gotthard Base Tunnel today after a 17-year construction period. The German Railway Industry Association (VDB) welcomed today's inauguration, saying the 57-kilometre twin-bore rail tunnel under the Alps was a major contribution to improving trans-European transportation. The new rail link enables more freight traffic to go by rail instead of road, with longer and heavier trains and shorter journey times. The capacities are increasing: in addition to 65 passenger trains travelling at up to 200 km/h, up to 260 freight trains with a speed of 100 km/h can use the route every day. "The Gotthard Base Tunnel is a lighthouse project: for action on climate, protecting the Alps, and for rail transport right across Europe," said VDB Managing Director Ben Möbius.
The commitment to European transport behind the Gotthard Base Tunnel is expressed in the technology. The lines are equipped with the modern European Train Control System (ETCS), which allows trains fitted with special on-board units to pass through the tunnel, no matter which national system they originate from. Möbius says, "Germany should swiftly exploit the opportunity offered by the Gotthard Base Tunnel of realising the harmonised European railway area, a "Schengen on rails", along the Rhine-Alpine Corridor. Despite giving a binding agreement to the EU, Germany has again and again fallen behind schedule on providing equipment for the five trans-European corridors. So it hardly comes as a surprise that Germany still lacks a rail connection to the punctually completed Gotthard Base Tunnel."
"Switzerland's excellent transport planning sets an example – also for Germany," Möbius added. "Because the roads are becoming more and more congested, Switzerland is backing environmentally friendly rail transport. Implementation of challenging infrastructure projects on schedule, upgrading important key routes with ETCS, and strong support from the public – Switzerland is pointing the way. And showing what has often been lacking in Germany to date: a clear political commitment to rail and a consistently Europe-oriented investment policy for rail traffic. Both are urgently needed."
About German Railway Industry Association (VBD)
The German Railway Industry Association (VDB) unites the manufacturers of all products for the railway operation – i.e. manufacturers of vehicles, control and safety technologies, infrastructure as well as the suppliers and service companies belonging to them – under its roof. VDB organises the expert exchange of experiences of the members and bundles the interests of the branch. What will become more and more important for the future and has already been important so far, is the representation of interests towards politics, customers, media, financial institutions and other associations – both nationally and internationally. In addition to that VDB is engaged in a fair and cooperative business relation between the system houses and the supplying industry. All this is strengthening the association and thus the whole railway industry. It is an alliance for a promising future.