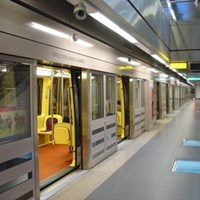 Designed to prevent passengers accidentally accessing the tracks from the platform, platform screen doors (PSD) contribute significantly to the safety of train passengers. The doors, which are built into a frame erected along the edge of the platform, do not open to allow access to carriages until the train has come to a complete stop. From Hong Kong to New York and from Stockholm to Beijing, Gilgen Door Systems have been supplying platform screen doors to railway operating companies on three continents for a quarter of a century. Now the company has won a contract to supply the extensions of no fewer than 18 stations on line "A" of the Metro of the French city of Toulouse.
Gilgen's first project in this respect dates back to 1993, when it supplied platform screen doors for the then newly inaugurated 15 stations of line "A" of the Toulouse Metro. A successful project from the outset, line "A" was extended ten years later to include three additional stations – likewise to be equipped with Gilgen platform screen doors. Now, 25 years after its original inauguration, line "A" is being modernised and extended. Passenger numbers have meanwhile risen to a quarter of a million per day.
Twenty-five years of proven reliability and quality
Gilgen is now building on the existing success of this project. The quality and high reliability of Gilgen's platform screen doors, despite heavy day-to-day use, has convinced both the operating company and its passengers. As Robert Hug, divisional director at Gilgen Door Systems, puts it: "These automatic door systems have shown their reliability throughout a quarter of a century of tough daily use. It would be hard to find better proof of their performance. This has contributed to our company being chosen to supply the new door systems." Gilgen can now therefore once more supply its customer Siemens France, operating on behalf of Société de la Mobilité de l'Agglomération Toulousaine, with automatic door systems of peerless quality.
A doubling of capacity and door systems of the latest generation
The project entails a full upgrade of the existing door systems of 18 Metro stations. The number of carriages per train is being doubled in order to cope with increased capacity requirements, which has likewise made it necessary to double the length of each platform edge from the current length of 26 metres. Each of these new 52-metre-long platform edges will now be fitted with twelve sets of automatic doors to replace the previous total of six. Precision and reliability are not just key factors for operation, but also for the conversion work involved. Robert Hug again: "As the Metro is so busy, it would have been unthinkable to interrupt operations for the sake of conversion work. We therefore had to carry out a retrofit project, with all work completed at night, during the Metro's official non-operating periods".
While the design of the platform edge has been maintained (with an aesthetically pleasing, userfriendly look that stood out even in 1993), Gilgen has updated the drive systems and control technology in accordance with the very latest technical standards. The line is also being equipped with an operational monitoring system. Robert Hug continues: "This leaves line "A" of the Toulouse Metro equipped to face the next 25 years. The operating company and passengers alike will have good reason to be pleased with these doors, which are fast, silent, safe and extremely reliable." All doors - and automatic ones at that - are now open for a further increase in the capacity of the Metro.
About Gilgen Door Systems
Gilgen Door Systems develops, in close consultation with you, solutions designed to ensure added value for your organisation, allowing you to benefit from the expertise that we have acquired from several decades' experience of projects, great and small, completed all over the world, in all sectors of commerce and industry.