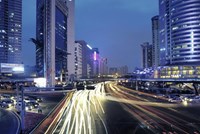 Global Traffic Technologies, LLC (GTT) has contracted with the city of Tampa and the Hillsborough Area Regional Transit Authority (HART) in Florida to upgrade its Opticom™ Transit Signal Priority solution to the latest generation GPS-enabled system. Opticom TSP allows equipped buses to request green light priority at intersections, helping to ensure on-time arrival for transit passengers.
HART provides regional transportation services for Hillsborough County, Florida. HART operates over 30 different local bus routes and 13 express bus routes, and carries more than 40,000 passengers every day.
The Opticom TSP system allows public transportation agencies to extend or truncate green cycle times at traffic signals for more accurate schedule adherence and/or to get riders to their destinations faster. In turn, transit vehicles are on the road less, which can significantly reduce fuel and other fleet operations costs.
In Tampa, the Opticom system has been upgraded from the existing infrared-based solution to the latest-generation GPS equipment at 22 key intersections and on 11 vehicles.
GTT's president Jason Lund said, "We are delighted to continue our work with the HART and the city of Tampa to bring the benefits of Opticom TSP to public transit passengers and HART personnel."
Hillsborough County is home to more than 1.2 million residents, with over 350,000 of those living in Tampa. Ray Charles was a Tampa resident, and professional wrestlers Hulk Hogan and John Cena currently call the city home.
About Global Traffic Technologies (GTT)
Global Traffic Technologies, LLC (GTT), formed in 2007 from 3M's pioneering Intelligent Transportation Systems business, is the manufacturer of Opticom priority control systems and Canoga traffic sensing systems. These systems have provided safe and reliable traffic solutions to communities for over 45 years.