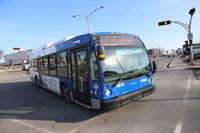 An Opticom Transit Signal Priority solution from Global Traffic Technologies, LLC (GTT) is helping the public transit system for the city of Laval in Quebec, Canada, to improve bus network performance and boost ridership. The TSP system is installed at 90 per cent of intersections in Laval and on more than 300 buses and paratransit vehicles.
The Opticom™ TSP system implemented by the Société de transport de Laval (STL) provides buses with a green light to keep them on-time – and data derived from the GPS-enabled system helps managers update and refine routes and schedules for a better rider experience and, ultimately, an increase in passengers using the system.
Laval is a city of over 400,000 residents in Greater Montreal with a rapidly growing population. STL general manager Guy Picard said one in five people in Laval use the transit system during their rush hour commute. "That's an increase of about 30 percent over the last eight years," he said.
STL currently provides more than 20 million passenger trips a year, and its strategic plan is to increase ridership by 40 percent between 2013 and 2022. "We felt that the best way to increase the punctuality, reliability and speed of our bus services, the most cost effective and efficient way, was to implement a large-scale TSP system," Picard said.
STL head of network development Sylvain Boudreau said the concept of using TSP is simple: "If a bus is running late, as it approaches an intersection, it sends a signal that requests the duration of the red or green light to be adjusted by a few seconds, allowing the bus to continue on its route without having to stop at the traffic light," he said.
The result is transit vehicles are on the road less, which can significantly reduce fuel and other fleet operations costs. Opticom TSP system solutions can help to increase ridership by changing and improving the behavior of buses depending on passenger needs.
Who gets priority
Using both conditional and relative priority has been key to managing the priority of their buses. With so many vehicles in the system, there was a need to implement a means of deciding which buses receive priority and when, Boudreau said. The solution was to send priority levels derived from the buses' on-board computers to the Opticom system. Different priority levels are determined by passenger counts and schedule data.
"If several buses approach an intersection at the same time, the one carrying the most passengers will have priority over those that are less crowded," he said. The Opticom system also provides conditional priority, where buses only request priority if they are behind schedule.
The TSP system is managed using Opticom Central Management Software (CMS), which allows STL to evaluate how the system is performing and further optimize it as additional data is accumulated. The more the system is used, the more data will become available, and the more STL will be able to make refinements and network improvements that will get more people out of cars and onto buses.
"All of our surveys said the same thing: people need punctuality. People need good information. People need reliability. People need speed," STL general manager Picard said. "With TSP, we address all of these issues. So, we're very confident that we will be able to increase our ridership numbers."
The operational efficiencies TSP delivers also mean buses can be on the road less, which is good news for the environment.
"With this project, we expect to decrease our carbon footprint by more than 30,000 metric tons (over 10 years)," Picard said. "That's a huge impact on our environment. We're faced with increasing congestion on our roads, so while the system is very helpful this year, we can only see it becoming more useful and more efficient over the next five or ten years."
About
Société de transport de Laval (STL)
Société de transport de Laval (STL) is the public transit system in the city of Laval, Quebec, Canada. It serves the growing suburban areas of Laval, North of Montreal. The STL network is rapidly expanding and its services have increased since the metro arrived in Laval. The STL's reliability and on-time performance are among the best in the world and it is a Canadian leader in providing real time passenger information to its clients. They view their successes as a solid foundation they can build on and they are committed to the continued development of the network.
About Global Traffic Technologies (GTT)
Global Traffic Technologies, LLC (GTT), formed in 2007 from 3M's pioneering Intelligent Transportation Systems business, is the manufacturer of Opticom priority control systems and Canoga traffic sensing systems. These systems have provided safe and reliable traffic solutions to communities for over 45 years.