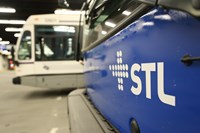 Global Traffic Technologies Inc.'s Opticom™ Transit Signal Priority (TSP) solution was recognized and celebrated as a significant innovation at the recent UITP Global Public Transport Summit 2017 in Montreal.
The system deployed by the Société de transport de Laval (STL) won a Corporate Leadership Award in the Innovation category from the Canadian Urban Transit Association (CUTA), and a post-event tour of the TSP solution for UITP attendees was fully-booked well in advance.
GTT's Vice President of Strategic Sales Victor Darias said the international summit was a chance to showcase some of Canada's recent contributions to public transportation innovations.
"GTT and STL have been partners for several years now, and it's satisfying to see the hard work get recognized by CUTA," Darias said. "STL has built a state-of-the-art system that uses Transit Signal Priority to improve speed, reliability and punctuality."
Leadership award
The CUTA presented STL with the Corporate Leadership Award on the eve of the UITP event. The award highlights transit innovations that break with conventional processes and extend beyond marginal improvements in products and services. STL's implementation drew praise from CUTA judges and from STL leadership.
"With faster trip times and improved service, the STL managed to reduce (greenhouse gas) emissions from transit as well as attract many new customers," CUTA judges said in a news release announcing the award.
Guy Picard, General Director of the STL, also applauded the Opticom TSP system: "This is an inexpensive system that can be inserted discretely into the urban environment, and which is imperceptible to drivers while still offering all the means to improve our service and make it faster and more efficient."
UITP technical tour
The technical tour of the TPS system in Laval took place the day after UITP, and saw a full bus of visitors head just north of Montreal to see the solution in action. In addition to a trip along Laval's major transportation corridors to see how buses are given priority, attendees were shown how STL's control center manages the system. Laval has TSP equipment installed at over 200 intersections and more than 300 vehicles, with buses allocated priority based on both schedule timings and passenger load.
In addition to the tour, UITP attendees could hear a presentation from Darias and Greenman-Pedersen, Inc (GPI) Director of Simulation Modelling Services Mark Yedlin on the way that transit signal priority is helping to reduce travel times through New York City's notoriously congested Wall Street financial district. GPI is a highly-ranked engineering firm that prides itself on creating smart and sustainable solutions for a wide array of projects.
The UITP Summit is the premier event for the public transport industry, bringing together the entire international public transport community to debate and explore the strategic vision and business activities of the sector. UITP (Union Internationale des Transports Publics) is the International Association of Public Transport.
Global Traffic Technologies (GTT) is a world leader in priority control and traffic sensing systems, with thousands of implementations of its acclaimed Opticom TSP solutions installed internationally. Opticom TSP provides buses and other public transport vehicles with the ability to request green lights at intersections, allowing for better schedule adherence and headway management.
About Global Traffic Technologies (GTT)
Global Traffic Technologies, LLC (GTT), formed in 2007 from 3M's pioneering Intelligent Transportation Systems business, is the manufacturer of Opticom priority control systems and Canoga traffic sensing systems. These systems have provided safe and reliable traffic solutions to communities for over 45 years.