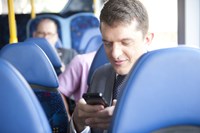 The Go-Ahead Group is pleased to announce that it has been awarded the Loyang contract by the Land Transport Authority (LTA) of Singapore and will enter the Singapore bus market in September 2016.
The contract, operating 25 routes with approximately 900 employees, is expected to generate total revenues of around S$500m (£230m) over five years. There is also the option of a two-year extension based on good performance.
Singapore's bus contracts system is modelled on London's and, as London's largest bus operator, Go-Ahead is well positioned to deliver high quality services in Singapore. The Group has carried out extensive research in support of its bid to operate there.
David Brown, Group Chief Executive Officer said:
"As a well-established and the largest operator of bus services on behalf of Transport for London we have a strong track record of providing passenger transport in busy urban areas. We will combine our skills, experience and people-focused approach with best practice in Singapore to provide a service that customers value and our team is proud to deliver".
About Go-Ahead
Go-Ahead is a leading UK public transport operator, providing high quality services in the bus and rail sectors. Employing around 26,000 people across the country, over one billion passenger journeys are undertaken on our services each year. We are committed to operating our companies in a safe, socially and environmentally responsible way and are proud to have been accredited with triple Carbon Trust Standard for reductions in carbon, water and waste. In addition to the travelling public, our customers include the Department for Transport, Transport for London (TfL) and local authorities.