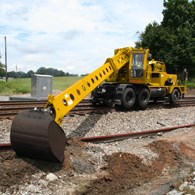 Gradall Industries, Inc., has introduced a collection of new, highly productive options for its Railway Maintenance Machines – representing the ideal combination of mobility and versatility
Gradall boom advantages
Gradall machines are distinguished by their low-profile, long-reach capabilities using the world-famous telescoping, tilting Gradall boom design. With a 220-degree full boom tilt capability, Gradall machines can efficiently use a range of attachments to build and repair rail crossings, clean up landslides, replace rails, spread ballast and cut back overhanging trees and other vegetation.
For even more attachment positioning versatility, Gradall offers an optional Kinshofer Nox-Tiltrotator, featuring 360-degree continuous attachment rotation and an extra 110 degrees of tilt motion, enabling operators to position attachments with more precision and in more locations than any other maintenance machine. The Nox-Tiltrotator also accommodates a wide range of attachments designed for railway maintenance efficiency, which can be changed hydraulically from the operator cab.
The Gradall carrier's short rear tail swing and low-profile telescoping boom create a compact profile, allowing Gradall machines to work efficiently under bridges and inside tunnels where knuckle booms won't fit.
Gradall mobility advantages
All Series V models are equipped with the traditional Gradall advantages of versatility and productivity.
Gradall is famous globally for introducing wheeled excavator mobility on highways as well as dirt. Gradall Railway Maintenance Machines can be quickly driven to the rail crossing, where carriers are positioned over the tracks. The rail gear system is quickly lowered into place, allowing the machine to move easily to one or more track repair and maintenance locations.
Two rail systems are available–both designed for easy, efficient travel along with the security of automatic digging brakes:
The newly available Neotec rail gear system uses hydrostatic drive for on-rail mobility, achieving speeds of 15 mph or more. From the operator cab, the rail gear system is lowered and mobility is changed from the road mode to the rail mode and back. With the carrier wheels raised, hydrostatic drive speeds the carrier to the job site where carrier wheels may be hydraulically lowered for maximum stability during digging, lifting and ballast movement.
Diversified rail gear system uses guides to position the carrier over the tracks and then uses the carrier's wheels for mobility – also maintaining excellent working stability.
Choose highway speed or on/off pavement models
Gradall offers Railway Maintenance Machines in various sizes and capacities, designed in two styles to meet varying off-rail mobility needs:
Highway speed models can be driven over highways at 60 mph, without the need for a lowboy trailer. This enables them to get to rail crossings quickly and then back to the safety of the equipment yard at night.
On/off pavement models efficiently travel over pavement at speeds typically exceeding 15 mph. After traveling over rails to the work site, these models demonstrate their exceptional stability, working in any direction.
A host of standard operator cab features include air conditioning, removable front window, a large adjustable seating module and a switch to select Gradall, SAE or Deere joystick patterns. Highway speed carrier advantages include an automatic transmission.
Machines have almost 70 percent parts commonality, simplifying the task of maintaining inventories to complete common service functions. These machines also have longer routine service intervals, and most service locations can be reached from ground level. A network of authorized distributors supports all Gradall excavators, supplying service advice and authorized Gradall parts.
Manufactured only in America, Gradall models meet or exceed ISO 9001-2008 standards for quality. For more information, including railway work case histories, visit www.gradall.com or call 800-445-4752.
About Gradall Industries Inc.
Since the 1940s, the Gradall name has been known world-wide for quality, innovation and versatility, producing exceptional machines for governments and private contractors as well as for mines, metal mills and even the firefighting industry.
Alamo Group, Inc.: For 40 years, we've been a world leader in the design, manufacture, distribution and service of high quality equipment for right-of-way maintenance and agriculture. Our products include tractor and truck mounted mowing and other vegetation maintenance equipment, excavators, street sweepers, vacuum trucks, snow removal equipment, pothole patchers, agricultural attachments and related aftermarket parts and services. We currently produce and assemble products in 16 principal facilities worldwide. Our products are sold through Alamo Group's marketing organizations and our extensive independent worldwide dealer networks under various trademarks and trade names. These include Gradall.