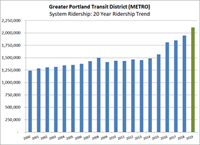 Greater Portland Transit District (METRO) reached record ridership of 2.1 million in 2019, breaking the 1.9 million mark from 2018. Last year's ridership represents an 8% increase compared to 2018, continuing a steady rise in public transit ridership that began in 2014.
METRO's General Manager, Greg Jordan said "With transit boardings increasing by 45% since 2013, we're seeing there is strong demand for improved public transit in our region and that transit works in Maine."
Throughout the previous decade, METRO delivered several system enhancements, including added frequency; new routes; new buses and shelters; express service between Portland, Yarmouth, Freeport, and Brunswick; and partnerships with USM, SMCC, Portland Public Schools, and Maine Medical Center, which have all contributed to these ridership increases.
Looking ahead to 2020, METRO, along with transit partners South Portland Bus Service and Biddeford Saco Old Orchard Beach Transit (BSOOBT), will introduce a fare change policy that includes a fare increase, the introduction of smart cards, and a mobile app. The fare changes are expected to start on April 1, 2020.
In 2021, METRO plans to improve service on the Portland Peninsula, providing more frequency, more options, and better connections.
About METRO

With annual ridership over 2 million, METRO is the largest public transit agency in Maine, providing bus service to Brunswick, Falmouth, Freeport, Gorham, South Portland, Westbrook, and Yarmouth. Public transportation in the Greater Portland region began in the 1860s with horse carriages. The history of getting from there to here has spanned more than 150 years.