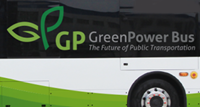 GreenPower Motor Company Inc., announced that it has entered into a letter of intent to lease its EVC550 all-electric double decker with an option to purchase after three years with The Greater Victoria Harbour Authority ("GVHA") and CVS Cruise Victoria Ltd. ("CVS Tours") with delivery expected in April of 2016.
The pilot program will evaluate the feasibility for fully electric bus transportation for the cruise ship tourism industry in Victoria. The focus will be on cost of operations compared to conventional diesel buses, emission reduction, noise reduction and charging station requirements. The bus will be in daily operation while cruise ships are in port, servicing shore excursions for passengers during the busy season from April to September each year.
Dave Roberts, Acting General Manager at CVS Tours, commented, "It is with the cooperation of great partners like GreenPower, The Greater Victoria Harbour Authority and Western Stevedoring, that we have been able to make this opportunity a reality. This new bus represents a commitment on the part of CVS and its partners to the environment, community and the future. We are hopeful that this pilot deployment project proves to be a success and will help to lead the industry. This technology has never been implemented in Victoria before and we are very keen to put it through a test year."
GVHA is committed to enhancing the working harbour and continues to have discussions with other cruise partners seeking various opportunities to serve the tourism industry of Greater Victoria and the surrounding communities in an environmentally friendly and efficient manner.
"A cornerstone of our vision for the future of the cruise industry in Victoria is to continually evaluate and source new, greener and more efficient transportation options for modernizing the current fleet of busses serving Ogden Point," said Ian Robertson, CEO at GVHA.
The EVC550 is an all-electric double decker bus measuring 45 feet in length, 8 ½ feet wide, 13 ½ feet high and can accommodate 88 seated passengers and standees. The EVC550 is fully accessible with a low floor design, kneeling capabilities, wheelchair lift and can be configured for one or two wheelchairs or mobility aids. The EVC550 has over 400kWh of batteries with a range of up to 385 Kilometers (240 miles) on a single charge depending on the requirements and operating criteria set by the operator. The EVC550 is versatile as it can fulfill the requirements for transit agencies, shuttle operations, tour operators as well as special situations.
"GVHA and CVS Tours are ideal partners for us with their expertise operating a fleet of motor coaches and a strong commitment to lessening their environmental footprint in Victoria," said Phillip Oldridge, CEO of GreenPower. "This pilot program continues on our momentum to place our all-electric buses into service where their costs and competitive advantages can be measured first-hand. Agencies throughout North America are now ramping up their interest in all-electric transportation along with the consumer market, and this program brings together both. We believe collaborations like this one will begin to catalyze our growth and revenue in 2016 as we continue to scale our outreach."
About CVS Tours
CVS Cruise Victoria Ltd. is a medium sized motor coach company operating in Victoria, BC Canada. We operate a fleet of Prevost motor coaches and Alexander Dennis modern Double Decker buses and conduct Victoria's Best Sightseeing and motor coach operations. In 2015, CVS had a team of approximately 35 very talented individuals who are committed to ensuring our guests have the finest experience possible while in our care. www.cvstours.com
About GVHA
The Greater Victoria Harbour Authority (GVHA) is a not-for-profit organization governed by a local Board of Directors. GVHA owns and operates deep water, marina and upland holdings throughout Victoria's harbour including the large vessel Ogden Point port facility, Fisherman's Wharf and the Inner Harbour. GVHA's focus is to collaboratively develop, promote and protect Victoria's working harbour, representing the economic, environmental and social interests of the region by partnering in the management of the harbour. www.gvha.ca
About GreenPower Motor Company Inc.
GreenPower Motor Company Inc. develops electric powered vehicles for commercial markets. GreenPower offers a range of electric powered buses deploying electric drive and battery technologies with a lightweight chassis and low floor or high floor body. GreenPower's bus is based on a flexible clean sheet design and utilizes a custom battery management system and a proprietary Flex Power system for the drive motors. GreenPower integrates global suppliers for key components such as Siemens for the two drive motors, Knorr for the brakes, ZF for the axles and Parker for the dash and control systems. This OEM platform allows GreenPower to meet the specifications of various operators while providing standard parts for ease of maintenance and accessibility for warranty requirements. For further information go to www.greenpowerbus.com