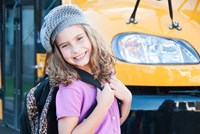 GreenPower Motor Company Inc., announced today that it has entered into a letter of intent with ADOMANI, Inc. pursuant to which it has agreed to produce 10 EVS 01M (Type A) all-electric school buses and 10 EVS 03 (Type C) all-electric school buses with delivery expected in the third quarter of 2016.
The aggregate purchase price for the 20 buses is more than U.S.$4 Million and is subject to U.S. Department of Transportation compliance and the State of California CHP School Bus inspection and S endorsement. The Company expects to satisfy those conditions by the second quarter of 2016, at which point ADOMANI will pay an initial deposit of 10% and the balance upon delivery.
GreenPower's EVS 01M all-electric school bus will be configured with a wheelchair lift and space for up to four wheelchairs. GreenPower's EVS 01M and EVS 03 incorporate in-wheel drive motors maximizing the batteries deployed on each of these buses, which combined with the battery management system delivers a range of more than 100 miles on a single charge.
Phillip Oldridge CEO of GreenPower, stated, "When we sought a distribution agreement with ADOMANI, we did so because they bring an established sales infrastructure and long standing relationships with school bus fleet managers. They are a trusted name in the space with an excellent reputation and this Letter of Intent to purchase 20 buses is a vote of confidence in our ability to acquire market share."
About ADOMANI, Inc.
California-based ADOMANI, Inc. provides school bus and fleet operators with complete Zero Emission Vehicles and plug-in hybrid solutions. ADOMANI brings together proven electric drivetrain technology, customized products, and trusted service partners to cut total cost of ownership, boost vehicle reliability, and unlock the many benefits of green technology.
About GreenPower Motor Company Inc.
GreenPower Motor Company Inc. develops electric powered vehicles for commercial markets. GreenPower offers a range of electric powered buses deploying electric drive and battery technologies with a lightweight chassis and low floor or high floor body. GreenPower's bus is based on a flexible clean sheet design and utilizes a custom battery management system and a proprietary Flex Power system for the drive motors. GreenPower integrates global suppliers for key components such as Siemens for the two drive motors, Knorr for the brakes, ZF for the axles and Parker for the dash and control systems. This OEM platform allows GreenPower to meet the specifications of various operators while providing standard parts for ease of maintenance and accessibility for warranty requirements.