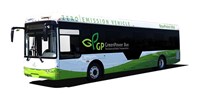 GreenPower Motor Company Inc. (TSXV: GPV) (OTCQB: GPVRF) ("GreenPower" or the "Company"), announces the sale of its EVC550 all-electric double decker bus to EV Power Corp. ("EV Power"). EV Power has agreed to purchase one EVC550 for U.S. $1,055,000 with an initial deposit of U.S. $50,000, a second deposit of U.S. $50,000 in ninety days and the balance on delivery. The delivery is slated for the second quarter of 2016. GreenPower believes that the order from EV Power is the first order for an all-electric double decker bus in either the United States or Canada.
The EVC550 is an all-electric double decker bus measuring 45 feet in length, 8 ½ feet wide, 13 ½ feet high and can accommodate 90 seated passengers and up to 35 standees. The EVC550 is fully accessible with a low floor design, kneeling capabilities, wheelchair lift and can be configured for one or two wheelchairs or mobility aids. The EVC550 has over 400kWh of batteries with a range of up to 240 miles (385 Kilometers) on a single charge depending on the requirements and operating criteria set by the operator. The EVC550 is versatile as it can fulfill the requirements for transit agencies, shuttle operations, tour operators as well as special situations.
Pursuant to the sale, GreenPower has appointed EV Power as an authorized Factory Representative for the EV250, EV300, EV350, EV400, EV450, EVC500 and EVC550 on an exclusive basis for the State of Nevada and a non-exclusive basis for Colorado and Arizona (collectively the "Territories"). In order to maintain its rights for the Territories EV Power must sell at least 14 buses per year commencing with the year ending December 31, 2017.
"GreenPower has a comprehensive suite of products that meets the needs of transit, shuttle and tour operators with an innovative approach for design and components compared to other offerings," said James O'Connell, Head of Sales for EV Power. O'Connell has spent over 40 years in the public transportation and bus sales arena and brings an immediate credibility, footprint, and network presence in the space. O'Connell continued, "Government agencies as well as underlying constituents are demanding that operators reduce emissions and their reliance on fossil fuels. GreenPower's products deliver on that objective and make riding a bus fun again for passengers with a quiet and enjoyable ride."
EV Power has a team with significant experience in the bus industry as well as the Territories.
About GreenPower Motor Company Inc.
GreenPower Motor Company Inc. develops electric powered vehicles for commercial markets. GreenPower offers a range (30 to 60 feet) of electric powered transit buses deploying electric drive and battery technologies with a lightweight chassis and low floor body. GreenPower's bus is based on a flexible clean sheet design and utilizes a custom battery management system and a proprietary Flex Power system for the drive motors. GreenPower integrates global suppliers for key components such as Siemens for the two drive motors, Knorr for the brakes, ZF for the axles and Parker for the dash and control systems. This OEM platform allows GreenPower to meet the specifications of various operators while providing standard parts for ease of maintenance and accessibility for warranty requirements.