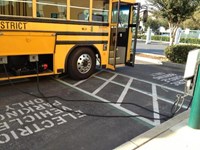 GreenPower Motor Company Inc. ("GreenPower" or the "Company"), announces the sale of one Type A all-electric school bus and one Type C all-electric school bus to ADOMANI, Inc. ("ADOMANI") for approximately U.S. $450,000 with an initial deposit of 10%, a second deposit of 10% in ninety days, and the balance on delivery with full compliance with the Federal Motor Vehicle Safety Standards. The delivery is slated for the second quarter of 2016.
Pursuant to the sale, GreenPower has appointed ADOMANI as an authorized Factory Representative for the Type A, Type C and Type D all-electric school buses on a non-exclusive basis for the State of California (the "Territory"). The parties have mutually agreed upon benchmark milestones to maintain the Territory of 50 school bus sales in 2016 and 100 school bus sales in 2017 thereafter increasing by 10 school bus sales per annum. Assuming benchmark milestones are achieved the Company's arrangement with ADOMANI will be ongoing and potentially expansive into additional Territories.
Answering the need for reliable green transportation solutions, California based ADOMANI designs, manufactures and installs advanced zero-emission all-electric drivetrain systems for new or existing school buses and medium to heavy-duty fleet vehicles.
The most recently available information for 2014 shows that the school bus sales in the United States by type were as follows:
Type A/B: 6,684
Type C : 23,715
Type D: 3,622
------------------
Total: 34,021
"This traditionally diesel dominated sector is still in the very early stages of adoption regarding new technologies including zero emission vehicles. Having the opportunity to provide new, from the ground up designed, purpose built all-electric school buses rather than taking an existing bus and modifying it to electric is exciting," said Jim Reynolds, CEO of ADOMANI, and a 14-year veteran in the school, commercial and transit bus industry.
"The school bus industry is at a cross road. While there are a variety of fuel choices, we believe that school bus fleet managers will increasingly adopt the all-electric option and we look forward to a rewarding partnership with GreenPower."
Fraser Atkinson, Chairman of GreenPower, added, "We were impressed by technology driven ADOMANI and how it has carved out a market in the all-electric vehicle space as well as the electric hybrid arena, and look forward to partnering with them in California. Our line of all-electric school buses with a range of more than 100 miles on a single charge, are an ideal fit for this market."
About ADOMANI, Inc.
California-based ADOMANI, Inc. provides school bus and fleet operators with complete Zero Emission Vehicles and plug-in hybrid solutions. ADOMANI brings together proven electric drivetrain technology, customized products, and trusted service partners to cut total cost of ownership, boost vehicle reliability, and unlock the many benefits of green technology.
About GreenPower Motor Company Inc.
GreenPower Motor Company Inc. develops electric powered vehicles for commercial markets. GreenPower offers a range (30 to 60 feet) of electric powered buses deploying electric drive and battery technologies with a lightweight chassis and low floor or high floor body. GreenPower's bus is based on a flexible clean sheet design and utilizes a custom battery management system and a proprietary Flex Power system for the drive motors. GreenPower integrates global suppliers for key components such as Siemens for the two drive motors, Knorr for the brakes, ZF for the axles and Parker for the dash and control systems. This OEM platform allows GreenPower to meet the specifications of various operators while providing standard parts for ease of maintenance and accessibility for warranty requirements.