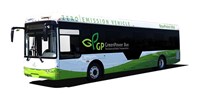 GreenPower Motor Company Inc. (TSXV: GPV) (OTCQB: GPVRF) ("GreenPower") today announced that the Company has configured four of its all-electric buses for right hand drive optionality. Buses presenting new, right hand drive optionality include: EV250 (nine meter or 30 feet), EV300 (10.5 meter or 35 feet), EV350 (12 meter or 40 feet) and the EV550 double decker.
In addition to its traditional business for left hand drive buses, from time to time GreenPower has received RFPs and requests for quotes from prospective customers in countries where the road traffic drives on the left hand side of the road, which requires a right hand drive vehicle. In order to respond to these opportunities, GreenPower has developed right hand drive optionality for select models of its heavy-duty all-electric buses.
There are a total of 75 countries, territories, and dependencies which drive on the left side of the road, including the following seven European jurisdictions: the United Kingdom, Ireland, Isle of Man, Guernsey, Jersey, Malta and Cyprus. None of these countries share a land border with a country that drives on the right. Other notable markets which will contribute to right hand drive vehicle market totals include: Australia, Bahamas, Bangladesh, Brunei, Hong Kong, India, Jamaica, Kenya, Malaysia, New Zealand, Pakistan, Singapore, and South Africa.
"Our clean sheet design allows us to adapt our products for the requirements of different markets with relative ease. This allows us to compete for a wider set of customers across the spectrum of business opportunities presented in the space," said Phillip Oldridge, CEO of GreenPower. Oldridge added, "We believe our prospective customer base in the global areas which require right hand drive optionality will respond well to our product offerings. Our near open-architecture provided by our clean sheet design has once again provided us the ability to accommodate the specific needs of the end user. In addition to our sales pipeline in North America, there are a number of lucrative opportunities within various international markets that we are currently pursuing; we are now one step closer to seeing GreenPower products on the road in these regions as well."
About GreenPower Motor Company Inc.
GreenPower Motor Company Inc. develops electric powered vehicles for commercial markets. GreenPower offers a range of electric powered buses deploying electric drive and battery technologies with a lightweight chassis and low floor or high floor body. GreenPower's bus is based on a flexible clean sheet design and utilizes a custom battery management system and a proprietary Flex Power system for the drive motors. GreenPower sources and integrates key vehicle components from global suppliers, such as Siemens for the two drive motors, Knorr for the brakes, ZF for the axles and Parker for the dash and control systems. This OEM platform allows GreenPower to meet the specifications of various operators while providing standard parts for ease of maintenance and accessibility for warranty requirements. For further information go to www.greenpowerbus.com