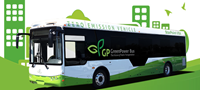 GreenPower Motor Company Inc. (TSXV: GPV) (OTCQB: GPVRF) ("GreenPower" or the "Company"), announces that it has entered into a Warrant Agreement with EV Power Corp.
whereby GreenPower will issue 400,000 common share purchase warrants each of which is exerciseable into one common share of GreenPower at an exercise price of $0.25 per common share on or before October 1, 2018. The Warrants will vest as to 10,000 Warrants for each completed sale of a GreenPower bus prior to the expiry date. The issuance of these warrants is subject to the approval of the TSX Venture Exchange.
Previously GreenPower announced that it has appointed EV Power as an authorized Factory Representative for the EV250, EV300, EV350, EV400, EVC500 and EVC550 on an exclusive basis for the State of Nevada and a non-exclusive basis for Colorado and Arizona (collectively the "Territories"). In order to maintain its rights for the Territories, EV Power must sell at least 14 buses per year commencing with the year ending December 31, 2017. EV Power has a team with significant experience in the bus industry as well as the Territories.
About GreenPower Motor Company Inc.
GreenPower Motor Company Inc. develops electric powered vehicles for commercial markets. GreenPower offers a range (30 to 60 feet) of electric powered transit buses deploying electric drive and battery technologies with a lightweight chassis and low floor body. GreenPower's bus is based on a flexible clean sheet design and utilizes a custom battery management system and a proprietary Flex Power system for the drive motors. GreenPower integrates global suppliers for key components such as Siemens for the two drive motors, Knorr for the brakes, ZF for the axles and Parker for the dash and control systems. This OEM platform allows GreenPower to meet the specifications of various operators while providing standard parts for ease of maintenance and accessibility for warranty requirements.