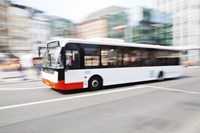 GreenPower Motor Company Inc. (TSXV: GPV) (OTCQB: GPVRF) ("GreenPower"), announces that certain purchasers of GreenPower all-electric buses are eligible for funding from the $2.9 billion Volkswagen Settlement Mitigation Trust.
For non-government entities, the funding from the VW Mitigation Trust can be up to 75% of the cost of a new all-electric bus, including the charging infrastructure; while for government entities, the funding can be up to 100%. In separate decrees, Volkswagen AG has agreed to settlements with the United States Environmental Protection Agency for violations of the Clean Air Act amounting to $14.7 billion for 2.0L diesel vehicles and $1 billion for 3.0L diesel vehicles that emitted up to 40x more emissions than legally allowed.
The VW Mitigation Trust totalling $2.9 billion is part of the overall settlement and funds are being allocated to states, territories and federally recognized Native American tribes. Trust funds are available for Eligible Mitigation Actions (EMAs). Recognized EMAs include the purchase of Class 4 to 8 zero emission school buses, shuttle buses and transit buses with the requirement that a legacy diesel bus must be scrapped. Eligible Buses include 2009 engine model year or older class 4 to 8 school buses, shuttle buses, or transit buses. Certain states may also include 2010 to 2012 engine model years.
"GreenPower is presently engaged with a number of organizations in analyzing their fleet for Eligible Buses so they can purchase a new all-electric school bus, shuttle bus or transit bus from GreenPower under this program," said Brendan Riley President of GreenPower. "With our low floor, high floor and double decker buses, we are the only company with a complete range of all-electric buses that can take advantage of all of the Mitigation Actions that are available for all-electric buses under this program. We believe this program will help accelerate the adoption of all-electric buses, scrap buses with older diesel engines that are notorious polluters and be part of the solution in remedying this scandal."
GreenPower will be providing additional information on its website related to the application process for funding from the VW Mitigation Trust for purchasers of new all-electric buses. GreenPower will support qualified buyers throughout the process including working with the various trustees of the Trust fund.
About GreenPower Motor Company Inc.
GreenPower Motor Company Inc. develops electric powered vehicles for commercial markets. GreenPower offers a range of electric powered buses deploying electric drive and battery technologies with a lightweight chassis and low floor or high floor body. GreenPower's bus is based on a flexible clean sheet design and utilizes a custom battery management system and a proprietary Flex Power system for the drive motors. GreenPower integrates global suppliers for key components such as Siemens for the two drive motors, Knorr for the brakes, ZF for the axles and Parker for the dash and control systems. This OEM platform allows GreenPower to meet the specifications of various operators while providing standard parts for ease of maintenance and accessibility for warranty requirements. For further information go to www.greenpowerbus.com