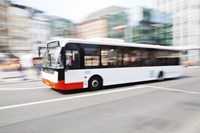 The wins keep rolling in for Vancouver-based GreenPower Motor Company (TSXV:GPV).
This morning, GreenPower announced that its customer, the City of Porterville, had been awarded $9.5-million by the California Air Resources Board (CARB) to deploy 10 GreenPower Motor Company Inc. EV350 40-foot zero-emission all-electric transit buses on all of its nine Porterville Transit routes, and to install the charging infrastructure, which will include 11 charging stations.
"We look forward to working with GreenPower in replacing our aging active fleet to 100 per cent electric buses that produce zero emissions," said Richard Tree, the transit manager for Porterville Transit. "Substantial grants like this one are driving the entire industry forward, and making all electric the new norm in public transportation, while playing a significant role in accomplishing our mission to improve the environment in our community and the valley."
It's been a busy 2016 for GreenPower. In June, the company received Letters of Intent for 25 GreenPower all-electric school buses from nine different school districts in the State of California. That followed on the February sale of its EV250 all-electric bus to Twin Transit Agency, a public transportation provider in the State of Washington.
"We are excited to be working with the City of Porterville on a system-wide deployment of our all-electric transit buses and charging infrastructure," said GreenPower chairman Fraser Atkinson. "The Porterville project will serve as a model for other operators in the San Joaquin Valley Air Pollution Control District and across North America who are seeking to deploy not just a zero-emission vehicle, but a zero-emission solution."
At press time, shares of GreenPower Motor Company were up 2.7 per cent to $0.75.
About GreenPower Motor Company
GreenPower Motor Company Inc. develops electric powered vehicles for commercial markets.
In 2014 GreenPower launched the EV350 transit bus, which is an electric powered transit bus deploying electric drive and battery technologies with a lightweight chassis and low floor body. GreenPower's bus is based on a flexible clean sheet design and utilizes a custom battery management system and a proprietary Flex Power system for the drive motors.
GreenPower integrates global suppliers for key components such as Siemens for the two drive motors, Knorr for the brakes, ZF for the axles and Parker for the dash and control systems. This OEM platform allows GreenPower to meet the specifications of various operator while providing standard parts for ease of maintenance and accessibility for warranty requirements.