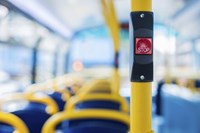 GreenPower Motor Company Inc. (TSXV: GPV) (OTCQB: GPVRF) ("GreenPower" or the "Company") announces that it has entered into a sales contract to supply 10 GreenPower EV350 40-foot zero-emission all-electric transit buses with the City of Porterville in California for deployment on all nine Porterville Transit routes, and includes 11 charging systems to be installed at the maintenance facility and transit center for a total purchase price of approximately $9 Million.
The contract provides the City of Porterville, or other customers, an option to purchase an additional twenty buses with the same terms and conditions as the initial purchase.
"We are going to be the first transit fleet in California to be zero emissions/all electric and look forward to working with GreenPower to replace our aging and polluting active-fleet," commented Richard Tree, Transit Manager, Porterville Transit. "Companies like GreenPower are driving the industry forward, and making all-electric the new norm in public transportation, while playing a significant role in accomplishing our mission to improve the environment in our community and the Valley as a whole."
The first bus is scheduled to be delivered in the fall of this year with the remaining nine buses three to four months later. GreenPower has also agreed to make available, for use as a spare bus, an EV350 40-foot zero-emission all-electric transit bus when GreenPower is not using this vehicle for demonstration purposes.
"This conversion of the entire Porterville transit system to GreenPower zero-emission buses is the most innovative project that I have been part of to date, and it is ground-breaking for the industry," stated Brendan Riley, President of GreenPower. "In addition, we have 20 buses available on this contract for other transit properties, including the San Joaquin Valley Air Pollution Control District who are seeking to deploy not just a zero-emission vehicle, but a zero-emission solution."
About GreenPower Motor Company Inc.
GreenPower Motor Company Inc. develops electric powered vehicles for commercial markets. GreenPower offers a range of electric powered buses deploying electric drive and battery technologies with a lightweight chassis and low floor or high floor body. GreenPower's bus is based on a flexible clean sheet design and utilizes a custom battery management system and a proprietary Flex Power system for the drive motors. GreenPower integrates global suppliers for key components such as Siemens for the two drive motors, Knorr for the brakes, ZF for the axles and Parker for the dash and control systems. This OEM platform allows GreenPower to meet the specifications of various operators while providing standard parts for ease of maintenance and accessibility for warranty requirements