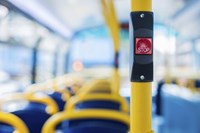 GreenPower Motor Company Inc. (TSXV: GPV) (OTCQX: GPVRF) ("GreenPower") has received an order for three of its Synapse 72 all-electric school buses for the Calaveras Unified School District ("Calaveras"). The order was placed through GreenPower's California factory direct dealer, School Bus Sales of California, Inc., an ADOMANI, Inc. (NASDAQ: ADOM) owned company.
In total, the order is for more than $1.1 million. GreenPower expects to deliver all three buses by the summer of 2018.
Located near Sacramento, Calaveras operates a fleet of approximately 40 school buses to support the transportation needs for roughly 2,700 students attending the schools in this District.
"This win is a major breakthrough for GreenPower as it marks the first customer order for our Synapse 72, the industry's first purpose-built, all-electric school bus," said GreenPower's President Brendan Riley. "This is just the beginning of GreenPower's pursuit to bring Safe, Sustainable Student Transportation to the marketplace. Stay tuned!"
About GreenPower Motor Company Inc.
GreenPower Motor Company Inc. develops electric powered vehicles for commercial markets. GreenPower offers a range of electric powered buses deploying electric drive and battery technologies with a lightweight chassis and low floor or high floor body. GreenPower's bus is based on a flexible clean sheet design and utilizes a custom battery management system and a proprietary Flex Power system for the drive motors. GreenPower integrates global suppliers for key components such as Siemens for the two drive motors, Knorr for the brakes, ZF for the axles and Parker for the dash and control systems. This OEM platform allows GreenPower to meet the specifications of various operators while providing standard parts for ease of maintenance and accessibility for warranty requirements. For further information go to www.greenpowerbus.com.
About School Bus Sales of California, Inc.
School Bus Sales of California Inc., is a wholly-owned, new vehicle distribution focused division of ADOMANI, Inc. (NASDAQ: ADOM) a provider of zero-emission electric and hybrid vehicles and replacement drivetrains that is focused on reducing the total cost of vehicle ownership. School Bus Sales of CA assists school bus fleet operators in unlocking the benefits of green technology and addressing the challenges of traditional fuel price instability and local, state and federal environmental regulatory compliance.