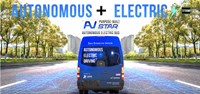 GreenPower Motor Company Inc., a leading manufacturer and distributor of zero emissions electric powered vehicles serving the delivery and cargo, micro-transit, private transportation and school bus markets, announced today the development of the first fully autonomous EV Star shuttle to undergo testing for transit applications. Perrone Robotics (PRI) is currently integrating the autonomous components and, once complete, will deliver the vehicle to the Jacksonville Transportation Authority (JTA).
"With this new partnership, the Jacksonville Transportation Authority will expand and ramp up our AV Test & Learn activities," said JTA Chief Executive Officer Nathaniel P. Ford Sr. "This work is laying the foundation for what will be the nation's first public transportation network powered by autonomous vehicles."
The Jacksonville Transportation Authority (JTA) is currently developing autonomous vehicle solutions for Jacksonville and has been working with AV technology since 2017. JTA has hired a former Amazon executive to lead their automation team and have created the minimum specifications for autonomous vehicles, the "Golden 20"; GreenPower's EV Star has met 19 of the 20, the most of any bus reviewed by JTA. In addition to developing a public transportation network in downtown Jacksonville, the JTA is working with local colleges, medical campuses and other partners to further validate and gain acceptance for this technology. The fully autonomous EV Star is expected to enter service later this year.
Brendan Riley, President of GreenPower commented, "This delivery will mark the first fully autonomous transit bus in the United States entering test operations and we are thrilled to partner with Perrone Robotics to serve this industry-leading AV program with the Jacksonville Transportation Authority. The speed with which the fully autonomous transit market is evolving is remarkable and is being accelerated by the current environment. Not only are we seeing the autonomous movement take hold, we are witnessing the transit footprint become smaller and more nimble which bodes well for our market position with the EV Star."
"We are very excited to be working with Jacksonville Transportation Authority on their AV Test program", said Paul Perrone, CEO and founder of Perrone Robotics, Inc. (PRI). "The combination of PRI's TONY™ autonomous kit with GreenPower's EV Star provides the most compelling autonomous transit solution out there. With rich autonomous capabilities and a future-proof architecture, TONY™ brings the best of today's – and tomorrow's – autonomy to the fantastic EV Star platform. We look forward to great results out of this partnership with the Jacksonville Transit Authority."
GreenPower continues to leverage its flagship EV Star Platform with four distinct models serving the cargo delivery, paratransit, private shuttle, and micro transit markets. The EV Star is the only bus in its class that comes with a standard J1772 level 2 fast charging and CCS DC fast combo charge system, allowing for optimal flexibility in route planning for any duty cycle.
About GreenPower

GreenPower designs, builds and distributes a full suite of high-floor and low-floor vehicles serving the cargo and delivery, transit, and school bus markets. GreenPower employs a purpose built clean-sheet design meaning all GreenPower buses were designed, engineered and manufactured from day one as zero emission all-electric vehicles. GreenPower integrates global suppliers for key components, such as Siemens or TM4 for the drive motors, Knorr for the brakes, ZF for the axles and Parker for the dash and control systems. This OEM platform allows GreenPower to meet the specifications of various operators while providing standard parts for ease of maintenance and accessibility for warranty requirements.