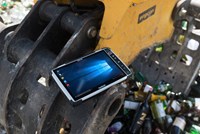 Handheld Group, a leading manufacturer of rugged mobile computers and tablets, today announced major wins with two European railways. The projects are valued at more than $2 million over the next 12 months.
Handheld Group and its subsidiaries have a long history of success with customers who work in the world's toughest environments. Now, Handheld will provide devices for railway track service and maintenance to two European national railways.
"Our products are very well-suited for tough environments, so it isn't surprising that these devices excel in railway usage areas. Both of these end users are repeat Handheld customers, and we are very proud that they chose us as their product providers once again," says Jerker Hellström, Handheld CEO. "The two orders are valued at more than $2 million and are a great addition to what is looking to be a record year in order intake for Handheld."
Each of the two railways selected a separate device — one opted for a NAUTIZ handheld device, and the other chose an ALGIZ rugged tablet solution. Both projects involve hardware, accessories and services. Project deliveries have already begun and are expected to continue over the next 12 to 18 months.
About Handheld Group
The Handheld Group is a manufacturer of rugged mobile computers, PDAs and tablets. Handheld and its partners worldwide deliver complete mobility solutions to businesses in industries such as geomatics, logistics, forestry, public transportation, utilities, construction, maintenance, mining, military and security. The Handheld Group of Sweden has subsidiaries in Finland, Italy, the Netherlands, the U.K., Germany, Switzerland, Australia and the USA.