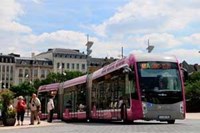 Transports de l'Agglomération de Metz Métropole (TAMM) has chosen GIRO's HASTUS software to manage and optimize the public transport services provided by the Le Met' network in the urban agglomeration of Metz, France.
This installation will enable the replacement of another supplier's system, which has been in place for several years, with a solution at the leading edge of GIRO's software developments. The operator, which is partly owned by the Keolis Group, has selected a range of HASTUS modules to meet its needs in creating vehicle schedules, optimizing crew scheduling, producing timetables to be posted at stops, and carrying out data analysis.
The powerful optimizers that HASTUS provides, the ease of access to data, the long-term nature of the existing relationship between GIRO and Keolis, and GIRO's reputation internationally and in the French market were among the factors that TAMM found persuasive.
"Compared with other software solutions on the market, HASTUS offers functionalities that stand out as being able to help us make improvements in carrying out our activities," said Jérôme Woeller, IT Systems Manager at TAMM.
"We are delighted to have been able to demonstrate once again the flexibility of our solutions," stated Marie-France Lafortune, GIRO's Director of Business development. "By selecting HASTUS, the teams at TAMM are not only acquiring a highly performing software solution, but they are also able to count on the knowledge of our experts, whose expertise has been trusted by the Keolis Group for over 20 years."
About Transports de l'agglomération de Metz Métropole (TAMM)
Since 2012, Transports de l'Agglomération de Metz Métropole (TAMM) has been operating the public transport network (Le Met') in the Urban Transport Perimeter whose Organizing Authority is Metz Métropole. TAMM specializes in urban and suburban passenger transport, operating more than 200 buses carrying out nearly 20 million passenger trips in 2016. TAMM has the goal of reaching an annual level of ridership of 23.8 million trips by 2023.
About GIRO
GIRO Inc. is a leading maker of software solutions for planning and managing transport-related operations.
The company's HASTUSTM, HASTUS-RailTM, GIRO/ACCESTM, and GeoRouteTM products combine advanced operations research optimization techniques with powerful data management tools to bring tangible benefits to clients world-wide. Based in Montréal, Canada, GIRO maintains close ties with research institutes and universities to ensure that its optimization tools leverage the latest developments and provide maximum benefits to clients.