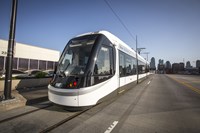 The voter-approved, $100 million Kansas City Streetcar opened May 6, and welcomed 32,000-plus passengers during its first weekend in service. Among the fastest federally-funded streetcar projects ever completed, KC Streetcar moved swiftly from initial planning to revenue service in about five years.
As the project's lead design firm, HDR partnered with local and regional agencies to identify the best transit mode and route for the unique needs of downtown Kansas City, Missouri. Through a series of competitive procurements, the city of Kansas City selected HDR to complete project development, environmental review and final design, resulting in the on time and on budget delivery of a modern streetcar system.
"Even though we have been involved with more than three dozen streetcar projects in North America, the energy that propelled Kansas City's project is truly unique," HDR Transit Director Tom Waldron said. "There has been overwhelming support and collaboration. It's been a privilege to collaborate with such enthusiastic partners to create smart solutions."
Service commencement of KC Streetcar marked the culmination of a multi-agency effort, years of collaboration with stakeholder groups and strong political leadership. At a well attended public celebration held at historic Union Station on the morning of opening day, Mayor Sly James was joined by other local officials and members of the Federal Transit Administration, including Acting Administrator Carolyn Flowers. Following the ceremony, a weekend of celebrations kicked off at multiple locations along the 2.2-mile streetcar route.
Since voters approved the streetcar in December 2012, the area surrounding the streetcar has welcomed more than 40 development projects totaling about $1.7 billion in economic activity.
To establish project funding, HDR performed economic analyses supporting the creation of the voter-approved Transportation Development District, which funded about 60 percent of the project. In addition, project staff and economists helped prepare the successful application for a federal Transportation Investment Generating Economic Recovery (TIGER) grant, which accounted for 20 percent of the overall cost.
The streetcar's north-south route primarily follows Main Street, linking the famous River Market area to the Crown Center commercial complex, Crossroads Arts District, Power & Light District, which provides access to the Sprint Center, the city's central business district and, at the southern terminus, Union Station, a transportation hub served by Amtrak. With 16 stops spaced generally about two blocks apart, the streetcar also interchanges with a dozen existing bus routes. The team worked closely with adjacent stakeholders to precisely define the locations for each transit stop.
In 2012, HDR worked with Kansas City and the FTA to complete the project's environmental assessment (EA). The FTA issued a Finding of No Significant Impact (FONSI) soon after the EA comment period closed — just two days later — an outcome that usually takes months.
In September 2013, the FTA honored the project with its prestigious Outstanding Achievement Award for Excellence in Environmental Document Preparation. This honor is granted to only two recipient-projects, every other year.
"After publishing the EA, we responded to each comment as it was received rather than waiting to respond to all of them at the end," HDR Environmental Lead Sharon Kelly said. "Simultaneously, we prepared a draft of the FONSI for review by the city and FTA. By the time the comment period closed, we had responded to the comments and had the draft FONSI ready for signatures."
Beyond focusing on functional design and environmental impact, the project team identified opportunities to create an aesthetic signature for KC Streetcar. One such opportunity resulted in 13 streetcar platforms that feature a one-of-a-kind shelter structure, according to Luke Olson, HDR project manager for KC Streetcar.
"Our architects led a series of workshops attended by staff from the city, KC Streetcar Authority and key stakeholders," Olson said. "These workshops resulted in the iconic 'picture frame' design that is now a trademark feature of KC Streetcar. It's just one of many examples from the past five years that exemplify what's possible through strong partnerships, collaboration and community support."
About HDR's transit experience
Because transit is not one size fits all, we help clients with everything from navigating The FAST Act and other funding alternatives, to managing program development and design, to providing construction management for new and established systems. Our wide-ranging portfolio includes managing the San Diego Mid-Coast Corridor Transit project, the Government Center Station renovation design in Boston, the Downtown Rapid Transit Expansion Study in Toronto and consulting on every phase of the new Sun Link modern streetcar in Tucson. In addition to planning and engineering, our experts help clients with strategic funding, economic analysis, public engagement, real estate services, program/project controls, risk management and operations and maintenance.
About HDR
HDR has partnered with clients to shape communities and push the boundaries of what's possible since 1917. We specialize in engineering, architecture, environmental and construction services. With nearly 10,000 employees in more than 225 locations around the world, we think global and act local.