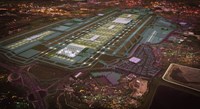 Heathrow expansion on-track for delivery as Government publishes draft National Policy Statement.
Government begins 16-week public consultation ahead of a vote in Parliament this coming winter.
Record political support for Heathrow expansion with 74% of MPs backing a third runway in the latest poll
Heathrow's expansion programme has passed its first delivery milestone and is advancing on schedule as the Government published its draft National Policy Statement ("NPS") on a third runway at the UK's hub earlier today.
As Europe's largest privately funded infrastructure project, Heathrow expansion will benefit the whole country and is a strategic plank of the Government's modern industrial strategy – upgrading Britain's infrastructure, encouraging more global trade and developing skills by cultivating a UK supply chain.
The Government now begins 16 weeks of public consultation across the country on the draft NPS, before submitting a final version for a vote in Parliament this coming winter. An overwhelming 74% of MPs back a third runway at Heathrow1, a record level of political support for the project and recognition of Heathrow's unique role in driving economic growth and creating jobs across Britain as the nation's only hub airport.
Heathrow Executive Director for Expansion Emma Gilthorpe said:
"The launch of the Government's national policy statement consultation is an important milestone in the delivery of Heathrow's expansion plans. We look forward to working with the Government, our local communities and our airlines throughout this consultation period to ensure Heathrow expansion is affordable and benefits all of Britain."
Unite General Secretary Len McCluskey said:
"This excellent news will cement Heathrow's reputation as a leading global airport. It is a tribute to all who work at Heathrow, including the many thousands of Unite members, that it will continue to develop, and in view of the UK's need to recast its relationships with the world following Brexit, this is a much-need investment for the national economy.
"We look forward now to the delivery of the project and the creation of the jobs that will result."
MP for Ealing Southall Virendra Sharma said:
"It is encouraging to see that the Government is moving swiftly. The need for additional airport capacity has become even more critical following the decision to leave the European Union. Heathrow expansion will provide unrivalled connectivity to new and emerging markets, boosting international trade and cementing London's role as a true outward-looking global city.
"Heathrow's new plan for expansion can be delivered responsibly with clear safeguards in place, it has the potential to eradicate local youth unemployment, it will deliver the skills required to build and operate the expanded airport, and it is one that I along with a majority of constituents support."
Leeds Bradford Airport Aviation Development Director Tony Hallwood said:
"Leeds Bradford Airport welcomes the launch of the consultation today, and we are pleased to see the delivery of Heathrow expansion progressing as planned.
"Expansion of the UK's hub will boost businesses across the Leeds City Region, by attracting investment and reaching key international markets from Yorkshire via our direct connection to Heathrow."
TUC Deputy General Secretary Paul Nowak said:
"It's heartening to see Heathrow expansion moving forward. Unions are committed to working with Heathrow to make sure expansion delivers high quality jobs and apprenticeships across the country
"Serious infrastructure projects like this are vital to strengthening our economy, securing investment and delivering on quality jobs. Britain needs to get building, and trade unionists stand ready to get going."
Heathrow is encouraging all stakeholders and those with an interest in the project to visit the DfT's website for further information on how to respond to the consultation: https://www.gov.uk/government/speeches/airport-capacity-and-airspace-policy
Once designated by Parliament, the NPS will provide the planning policy that will apply to a third runway at Heathrow and set out the policy tests that the project must meet.
Later this summer and in addition to the Government's NPS consultation, Heathrow will launch its own Phase 1 consultation to gather feedback from stakeholders on options for the Northwest Runway Scheme. The feedback will inform the the next phase of design for the scheme which will then be further refined following a Phase 2 consultation in the summer of 2018. A final proposal is expected to be submitted to the Planning Inspectorate as part of an application for a Development Consent Order in the summer of 2019. Heathrow is committed to delivering an expansion plan that minimises the airport's impact on local communities, is affordable for our airline partners and delivers benefits to all of Britain.
About Heathrow Airport
Heathrow is the UK's premier international airport. From here, some 80 airlines fly direct to over 180 destinations worldwide.