Yesterday evening, Heathrow welcomed the first UK flight arriving directly from the Chinese economic powerhouse and megacity of Shenzhen. Operated by Shenzhen Airlines, this thrice weekly service will transport up to 96,408 passengers a year and 3,120 tonnes of annual exports and imports to the city known as China's tech hub. Recently, Lonely Planet has ranked Shenzhen second on its list of 'top 10 cities to visit in 2019' .
The new route is the latest in a growing list of new Chinese routes announced by Heathrow this year. Over 2018, Heathrow has more than doubled its existing direct connections to China - growing the network from five destinations at the start of the year (Hong Kong, Shanghai, Beijing, Guangzhou, Qingdao) to 11 with the addition of Chongqing, Wuhan, Sanya, Changsa, Xi'an and now Shenzhen.
Located just over the border from Hong Kong, and only a short high-speed rail ride away, Shenzhen has a population of over 12 million people and one of the highest GDP per capita of any city in China. Home to tech giants like Huawei and Tencent (owner of social media tools WeChat and Weibo), Shenzhen is known as China's own Silicon Valley. Creative industries are moving to the city not only for work, but also because of its thriving cultural scene. In the past three years, the city has added a host of cultural destinations including 'Design Society', China's first museum devoted to design that was delivered in conjunction with London's V&A museum, as well as the Museum of Contemporary Art & Planning Exhibition (MOCAPE) and heritage art village OCT-LOFT.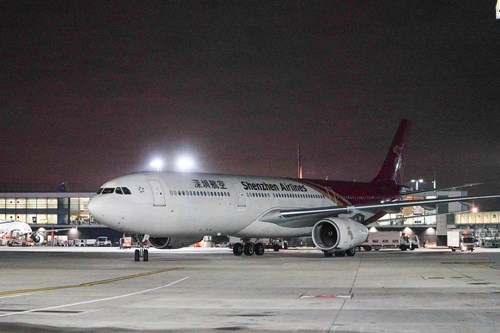 Shenzhen Airlines is part owned by Air China and is the 4th largest Chinese carrier by passenger numbers. Its direct flight to Heathrow will become Shenzhen Airlines' first long-haul route, and connect passengers from London, through Shenzhen City to its regional network of 210 domestic routes. Shenzhen Airlines is now the 25th Star Alliance carrier that will operate under one roof at London Heathrow Terminal 2.
Heathrow's latest Trade Tracker Report, researched by economic analysts CEBR, shows exports to China via Heathrow have grown by 330% over the last year – with exports between April and June this year totalling £3 billion in value. While connections to Chinese cities are valuable to the UK, rival EU hub airports with spare capacity are able to connect directly to Chinese destinations like Hangzhou, Chengdu, and Kunming, facilitating more trade and investment to their home countries. By identifying efficiencies and gaps in schedules, Heathrow has been able to accommodate new routes this year, however this is a limited and piecemeal approach. Expansion of Heathrow, the UK's only hub airport and biggest port by value, will allow Britain the opportunity to build and maintain the vitally important trade connections to China the country needs in the long-haul.
Launching the route, Heathrow's Chief Commercial Officer Ross Baker said, "This year, we have focussed on strengthening Heathrow's role as the UK's gateway for Chinese trade, commerce and tourism. While our passengers and exporters will undoubtedly be pleased with our new Shenzhen connection, along with the other routes we have announced this year, we know that in order to achieve true transformational change for our culture and economy we need the additional capacity for cargo and passengers to reach greater benefits. It is the creation of this extra capacity, achieved through Heathrow expansion that will allow Britain to trade on a truly global platform whilst providing Britain with a front door that is the best connected in the world."
About Heathrow

Heathrow is the UK's hub airport, home to more than 80 airlines connecting to more than 200 destinations. Every year Heathrow welcomes over 75 million passengers with a commitment to 'making every journey better'. Following an investment of more than £11 billion over the past 10 years, passengers have voted Heathrow the 'Best Airport in Western Europe' two years in a row, 'Best Airport Terminal' for the Terminal 5 five years in a row and 'Best Airport for Shopping' seven years in a row.