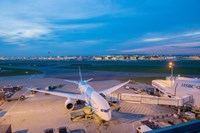 China Southern Airlines has confirmed a second daily departure between Heathrow and Guangzhou starting the 1st of June of this year. The airline's twice daily service, the only direct connection between the UK and southern Chinese city of Guangzhou, is strategically important for a global, outward looking Britain.
The new service will use a Boeing 787 Dreamliner and will lower transfer times to China Southern Airlines' network of over 120 destinations in China, Japan & Korea, South East Asia, Australia and New Zealand.
Flight Schedule
CZ604: Leaves London Heathrow at 12.35, arrives at Guangzhou at 07.10; starts from 1st June,
CZ603: Leaves Guangzhou at 00.55, arrives at London Heathrow 06.35. starts from 1st June,
CZ304: Leaves London Heathrow at 22.35, arrives at Guangzhou at 17.05;
CZ303: Leaves Guangzhou at 09.30, arrives at London Heathrow 15.05.
Located just 75 miles up the Pearl River bay from Hong Kong, Guangzhou is one of China's most vibrant business markets and its biggest port. The addition of this new daily service will boost trade capacity to this booming city, by doubling the space for British exports to up to 8,760 metric tonnes a year.
China Southern Airlines is a member of Sky Team and operates out of Heathrow's Terminal 4. The 4 Star Airline operates 700 passenger and cargo aircraft, and is ranked first in Asia and 4th in the world.
Heathrow Chief Executive John Holland-Kaye said:
"We are delighted to welcome the second service of China Southern Airlines to Heathrow and the benefits of increased connectivity to Guangzhou for our passengers and for British business. Direct connections to thriving markets like these are essential to keeping our country a global, outward looking, trading nation."
Heathrow welcomed 1,151,00 passengers flying to and from Chinese destinations in 2016. This is an increase of 7. 3% over the previous year.
About Heathrow Airport
Heathrow is the UK's premier international airport. From here, some 80 airlines fly direct to over 180 destinations worldwide.