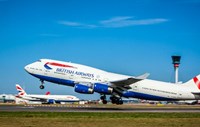 MPs: Heathrow is the top infrastructure project for securing Britain's long-term prosperity, ahead of Hinkley Point C and HS2.
Parliament united in support of Heathrow expansion with record 77% backing the project.
Heathrow expansion planning process underway with Government consulting on National Policy Statement ahead of Heathrow's own consultation later this year.
As the Prime Minister prepares to trigger Article 50 negotiations to leave the European Union, MPs have sent Downing Street a clear message – expanding the nation's hub airport is the most critical infrastructure project to secure the long-term prosperity of Britain's economy, ahead of a new nuclear power station at Hinkley Point and the new HS2 rail link.
In new polling by ComRes released today, Parliamentary support for expanding Heathrow reached a record high, with 77% of MPs now backing the project which will make Britain the best-connected country in the world, create up to 180,000 new skilled jobs and boost growth by up to £211 billion across the country.
The polling reveals a rare show of Parliamentary unity behind the Government's decision to back an expanded Heathrow. Heathrow expansion is seen by Parliament as the most beneficial infrastructure project for all regions across the UK – ahead projects specifically located outside of London like HS2, HS3 and Hinkley Point C – and enjoys the cross-party support of 83% of Conservative and 74% of Labour MPs.
Heathrow CEO John Holland-Kaye said:
"The UK has a unique opportunity to reshape its place in the world and an expanded Heathrow is our trump card. By making our nation's hub bigger and better, we'll secure a prosperous future for Britain. MPs are clear – Heathrow expansion is the right choice for Britain – and we're getting on with delivering it!"
Later this year and in addition to the Government's National Policy Statement consultation, Heathrow will launch its own Phase 1 consultation to gather feedback from stakeholders on options for the Northwest Runway Scheme. The feedback will inform the next phase of design for the scheme which will then be further refined following a Phase 2 consultation in 2018. A final proposal is expected to be submitted to the Planning Inspectorate as part of an application for a Development Consent Order in the summer of 2019. Heathrow is committed to delivering an expansion plan that minimises the airport's impact on local communities, is affordable for our airline partners and delivers benefits to all of Britain.
With up to 40 more long haul destinations, an expanded Heathrow will make Britain the best-connected country in the world. It will increase the number of domestic routes served, ensuring every region and nation of the UK can get to global markets and increase cargo capacity, supporting Britain's exporters. An expanded Heathrow will be the largest privately-funded infrastructure project in Europe and will maximise opportunities for British businesses of all sizes as the airport looks to decentralise its supply chain across the UK.
About Heathrow Airport
Heathrow is the UK's premier international airport. From here, some 80 airlines fly direct to over 180 destinations worldwide.