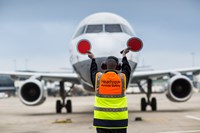 New ComRes polling finds more than two thirds of the public think building a third runway at Heathrow demonstrates that Britain remains 'open for business' after Brexit
Strong majorities also believe the new runway will open up new trading opportunities and enable UK businesses to export more goods and services around the globe
The results come a week after the Government publishes the National Policy Statement on Heathrow expansion, kick starting the planning process
The new polling follows support from MPs with 74% backing expansion in a recent poll
The British public clearly appear to recognise that following Brexit a third runway at Heathrow will help Britain compete in the global economy. The new polling comes a week after Heathrow expansion reached its first delivery milestone with the Government publishing the draft National Policy Statement.
The new polling conducted by ComRes saw majorities of respondents agreeing that the runway will help demonstrate that the country remains open for business and/or help prepare Britain for its new role in the world.
69% of those polled agreed with the statement "as the UK prepares to leave the European Union, building the additional runway at Heathrow helps demonstrate that Britain remains open for business" with only 14% of respondents in disagreement. While 64% agreed that "Building an additional runway at Heathrow will help British businesses expand to new trading routes across the globe."
The British public join MPs, business, trade unions and the local community in demonstrating their support for expansion since the Government announced its backing last October.
The public consultation now underway on the National Policy Statement provides a further opportunity for the public to have their say.
Heathrow CEO John Holland-Kaye said:
"An expanded Heathrow will create new routes and trade destinations to deliver the Prime Minister's vision of a global Britain.
The launch of the Government's National Policy Statement consultation is a key milestone in our plans, and we look forward to working with our local communities, airlines and the Government to ensure Heathrow expansion is affordable, sustainable and benefits all of Britain."
About Heathrow Airport
Heathrow is the UK's premier international airport. From here, some 80 airlines fly direct to over 180 destinations worldwide.