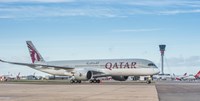 Heathrow shareholders are planning an additional £650m annual investment at the UK's global gateway
The support for Heathrow underscores investor confidence in Britain as an investment destination
New funds set to be spent on further improvements to passenger experience and resilience
In a major signal of confidence in the UK economy, Heathrow's shareholders today progressed plans to invest an additional £650 million into Britain's global gateway over the course of 2019. The plans send a strong signal that Britain continues to be open for business in the eyes of international investors.
With the UK set to leave the European Union in 2019, the planned investment will further boost passenger experience at the UK's hub airport and improve Heathrow's operational resilience. Initial plans for the new investment include the possibility of enabling works for the expansion of the award-winning Terminal 2 and planning works for a new southern access tunnel for the Central Terminal Area.
Heathrow's shareholders are amongst the most sophisticated investors in the world, with over $1 trillion of funds under management. They include UK pension fund Universities Superannuation Scheme in addition to Ferrovial, Qatar Investment Authority, Caisse de dépôt et placement du Québec (CDPQ), GIC, Alinda Capital Partners of the United States and China Investment Corporation.
His Excellency Sheikh Abdulla Bin Mohammed Bin Saud Al-Thani, Chief Executive Officer of Qatar Investment Authority said:
"Our investment in Heathrow is much more than just an investment in one of the world's great airports – it's an investment in Britain's connections to the world. As the UK reshapes its role in the world, we confirm our commitment as proud partners of a great trading nation."
Heathrow CEO John Holland-Kaye said:
"The planned investment is great news for Heathrow passengers and for Britain – it will help us build on our success as passengers' Best Airport in Western Europe and further improve resilience at the nation's hub."
About Heathrow Airport
Heathrow is the UK's hub airport, home to more than 80 airlines, connecting to more than 180 destinations. Every year, Heathrow welcomes over 75 million passengers with a commitment to 'making every journey better.' Following an investment of more than £11 billion over the last 10 years, passengers have now voted Heathrow the 'Best Airport in Western Europe' three years in a row, and 'Best Airport for Shopping' eight years in a row.
Heathrow is owned by a consortium of global investors, including Ferrovial S.A. (25.00%), Qatar Investment Authority (20.00%), Caisse de dépôt et placement du Québec (CDPQ) (12.62%), GIC (11.20%), Alinda Capital Partners of the United States (11.18%), China Investment Corporation (10.00%) and Universities Superannuation Scheme (USS) (10.00%).