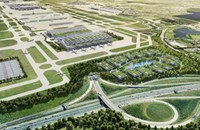 Seven companies have been contracted by Heathrow to design plans for the airport's sustainable expansion. They will help deliver one of the most leading-edge airport operations in the world.
The group – Amec Foster Wheeler, Arup, Atkins, Grimshaw, Mott MacDonald, Jacobs and Quod – will now be known as the Integrated Design Team (IDT).
The seven were chosen because of their experience in delivering projects of similar size, breadth and importance as an expanded Heathrow. Their appointment followed competitive selection processes and a thorough commercial review. The teams have each been awarded 4 year term contracts, commencing November 2016.
Each supplier is a world leader within their field and have unique insights into how to build Heathrow sustainably and affordably:
Amec Foster Wheeler will continue to assist Heathrow with its sustainability strategies and Environmental Impact Assessment, following successful work completed to date for the airport.
Arup will utilise their world leading engineering expertise as well as continuing to lead Heathrow's passenger experience and baggage improvement programmes.
Atkins was appointed because of its world class engineering capability and record of delivering Heathrow's IT and asset replacement programmes.
Grimshaw's creativity and world class experience, including their successful delivery of Terminal 2B, earned them the role of Concept Architect within the IDT.
Jacobs will contribute its world-leading aviation infrastructure design expertise to provide airport planning and engineering services and build on the work it has already done with Heathrow.
Mott MacDonald's industry-leading knowledge developing airport masterplans, as well as its significant engineering expertise will be a crucial addition to the IDT.
Quod will be a valuable asset to the IDT, as one of the UK's leading town and country planning consultants with extensive knowledge on making successful DCO applications.
Barry Weekes, Head of Design at Heathrow, said:
"With their institutional knowledge of Heathrow, and proven record in building complex infrastructure projects, the members of the Integrated Design Team will allow us to hit the ground running to deliver Heathrow expansion.
"Their appointment is a significant milestone in what will be a fast paced design and engineering schedule. We are now well on our way to delivering Britain's new runway, providing the additional capacity our country needs to maintain its place in the world as a prosperous, outward looking trading nation."
The appointment of the IDT follows the announcement of the partners in the Programme Client Team in March of this year. Arup, CH2M, MACE and Turner & Townsend will all work alongside Heathrow Airport in this capacity to deliver expansion to the highest industry standards in planning, innovation and quality.
About Heathrow Airport
Heathrow is the UK's premier international airport. From here, some 80 airlines fly direct to over 180 destinations worldwide.