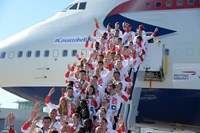 Heathrow celebrated 70 years of history as Britain's front door in 2016, welcoming a record 76 million passengers (+1%) alongside 1.5 million tonnes of cargo (+3%) travelling through the UK's hub – that's nearly three full Millennium Stadia of passengers a day and annual cargo equivalent to 118,000 London buses, 7,500 Angels of the North or nearly 30 fully-loaded Queen Elizabeth II ocean liners.
For the second year running, Heathrow was delighted to be named as the 'Best Airport in Western Europe' by its passengers at the annual Skytrax Global Airport Awards.
Larger, quieter and more efficient aircraft continued to be a driver for growth in passenger volumes at Heathrow. In 2016, around 40% of Heathrow's long haul passengers travelled on cleaner and quieter new generation aircraft, such as Airbus A380s, A350s and Boeing 787 Dreamliners – up from around 25% in 2015 and helping to reduce the airport's impact on local communities.
In a major boost for the economy, the Government announced its support for a new runway at Heathrow – the first full-length runway in the south east since the second world war. The Government will begin consulting on a national policy statement early this year.
December 2016
December passenger volumes set a new record for Heathrow, with 6.2 million passengers travelling through the airport (+4.4%) – emerging markets in the Middle East (+16.9%) and Asia (+3.2%) continued to be drivers for growth as well as strong performance on North American segments (+2.1%).
Cargo growth was also strong, with trade through Heathrow increasing 5.1% driven in particular by growth to emerging market destinations – Brazil up 18.6%, India up 12.1% and China up 8.3%.
Heathrow CEO John Holland-Kaye, "Heathrow celebrated 70 years as the country's front door in 2016 and I'm proud that we were able to end this year on such a high note. Whether it was welcoming back a triumphant Team GB from Rio or giving that special Heathrow service to a record number of passengers, increasing Britain's trade with the rest of the world or securing Government support for expansion – Heathrow is Britain's airport and we will continue to help all of our country thrive for decades to come."
About Heathrow Airport
Heathrow is the UK's premier international airport. From here, some 80 airlines fly direct to over 180 destinations worldwide.