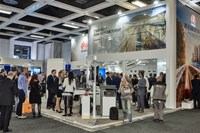 At InnoTrans 2016, Huawei rolled out two core Digital Urban Rail 2.0 solutions for the industry, which include the cloud-based Traffic Control Integrated Automation Systems (TIAS) solution and next-generation Urban Rail Data Communication System (DCS) solution. Jointly developed by Huawei and its partners, the two solutions are designed to build a smarter, safer and more efficient rail traffic network for global clients with innovative technologies such as cloud computing, big data and Long Term Evolution (LTE).
InnoTrans is the world's leading trade fair for rail transport technology with over 2,761 exhibitors from 55 countries taking place on the Berlin Exhibition Grounds from September 20-23, 2016, and Huawei is presenting operational benefits for main line, metro and tram operations implementing its Digital Urban Rail 2.0 solutions in Hall 7.1b, Stand 201.
Under the theme of "Leading New ICT, Building a Better Connected Railway," Huawei presented its cloud-based TIAS and DCS solutions at InnoTrans 2016. This summit served as a platform for over 200 rail experts, global renowned operators, integrators and associations, including International Union of Railway (UIC), Deutsche Bahn (DB), Singapore's SMRT Corporation Ltd., Thales, Bombardier and Alstom, to envision how carriers can leverage their competiveness and innovate rail sector business with innovative solutions, such as cloud business, broadband connection and connected railway.
Leading New ICT, Building a Smarter, Safer, and More Efficient Connected Railway
Because of their large capacity, high speed and environmentally friendly benefits, urban rail transit systems are critical strategic transportation choices in modern city planning for resolving the growing problem of traffic congestion. However, due to the never-ending demand for capacity increase, rail transit systems are also facing challenges with regards to punctuality, safety and efficiency. For that reason, rail operators are looking to adopt innovative ICT solutions and infrastructure that not only support elastic and efficient service expansion, but also facilitate the development of future-oriented and intelligent urban rail transit systems.
Yuan Xilin, President of the Transportation Sector of Huawei's Enterprise Business Group said: "Today, powerful technologies are rebuilding the transport industry. For over two decades, Huawei has been at the forefront providing high-quality services to the railway industry. Using LTE, cloud computing, and big data technologies, we enable customers to achieve safe train dispatching and visualized management; efficiently managing assets and resources with urban rail cloud and BYOD technologies, we support customers to integrate their services and share information; using convergent and elastic technical architectures and big data analytics, we capacitate customers to implement intelligent full lifecycle management and formulate appropriate passenger ticket marketing plans to improve efficiency and increase revenues. We are also implementing Internet of Things (IoT) solutions to enable customers to improve performance in disaster prevention, freight transport, and full lifecycle management of resources."
Huawei Jointly Releases Digital Urban Rail 2.0 Solutions, Facilitating Urban Rail Evolution
The innovative cloud-based TIAS solution is jointly developed by Huawei and HollySys, which introduces a groundbreaking design that integrates Huawei's cloud technology into the TIAS from HollySys. Based on the unique requirements of the railway messaging system, Huawei deploys a cloud platform in the Operation and Control Center (OCC). This architecture offers data computing and storage features towards a manifold of services and systems along rail lines and operation centers. A desktop cloud solution is also deployed at key service points to meet data processing needs. TIAS applies cloud architecture technology to perform uniform integrated allocation of resources, which ensures that the safety, efficiency, data sharing, and intelligent linkage requirements of fully automated driving are all met.
Next-generation DCS solution is an urban rail signal bearing solution jointly developed by Huawei and Thales; while Siemens, Alstom and Bombardier also tested communication-based train control (CBTC) over LTE with Huawei. Featuring enterprise LTE's anti-interference design, seamless dispatching and high scalability, the solution effectively enhances the reliability of wireless network and enables a more secure traffic signal bearer system, as a means to alleviate current public Wi-Fi's interference problem. Furthermore, LTE base stations have a large coverage area which decreases a significant number of installed tunnel devices and scope of tunnel maintenance work.
At Huawei's Railway Summit, Deutsche Bahn's Klaus-Dieter Masur said: "GSM-R has clearly been a success story. Today this universal standard supports and enables telecommunication services for all the railways'interoperability-relevant operational needs. However, Future Mobile Radio Technology can help rail operators to implement new services and applications. At the moment the frequency and migration aspects are still complex challenges. First steps have already been made in projects and activities to overcome these obstacles. We think that Huawei is one of the most important players in terms of research and development in the pathway to full deployment of such a new standard over the last few years. The full implementation is still going to take two decades."
Huawei's railway transport solutions cover the three main sectors of network, platform, and service. These solutions enable customers to build operational communication networks to carry services such as train signaling, voice and video dispatch, voice trunking, and video surveillance, as well as deploy railway cloud platforms and big data solutions to carry various resource management and operational systems; and last but not least, support the deployment of onboard services providing optimal travel experiences for passengers.
Committed to the principle of "Openness, Cooperation, and Win-Win", Huawei has teamed up with partners for comprehensive and joint innovation to build end-to-end solutions, which support the railway industry to successfully journey through digital transformation. For instance, in 2015, Huawei and its strategic partnership Siemens CVC modernized the GSM-R project of Deutsche Bahn in Northern Germany. Covering 12,000 km, or 40% of Deutsche Bahn's network, this initiative is the world's largest GSM-R network reconstruction project to date. Huawei has also enabled China Railway Corporation to double its booking capacity to issue over 10 million tickets a day by upgrading its online ticketing platform using public cloud. Working together with Spain's ADIF on their new high-speed railway construction project, Huawei's Digital Railway Agile IP Network solution enabled secure, reliable, and efficient operation of the newly constructed high-speed railway lines across Spain and ensured that ADIF met the sustainable future trend of an all-IP evolution. So far, Huawei's digital urban rail solutions cover 100,000 km of railway around the world and serve over 50 urban rail lines in more than 30 cities globally, in open collaboration with more than 60 partners in the railway industry.
About Huawei
As a leading ICT solutions provider, Huawei is committed to providing innovative and customized products, services and solutions to create long-term value and growth potential for its customers. Together with partners, Huawei offers solutions for vertical industry and enterprise customers globally including government and public sectors, transportation, power grids, energy, and finance, as well as commercial enterprise in many fields. These innovative and leading solutions cover network infrastructure, UC&C, cloud computing & data center, and industry application solutions. Through continuous customer-centric innovation, Huawei have established end-to-end advantages in Telecom Network Infrastructure, Application & Software, Professional Services and Devices.
With comprehensive strengths in telecommunication technologies, Huawei has gained a leading position in the All-IP convergence age including solutions in railway communications where a number of advanced Huawei's ICT solutions were selected along 78,000+ km of railway lines globally. Huawei's ICT solutions cover rail-operational voice and data communication (GSM-R) as well as non-operational communication such as LTE, CCTV, transmission networks, WIFI just to name a few. With the continuous investment and innovation in the ICT area, Huawei, the fastest growing global mobile supplier, has become a reliable partner for many railway operator and top-tier system integrator.