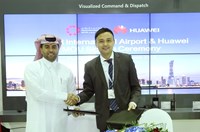 At the 17th Dubai Airport Show, in Dubai, UAE, Huawei and Hamad International Airport (HIA) signed a Memorandum of Understanding (MoU), formalizing a strategic partnership to enable the airport's digital transformation.
The MoU provides a broad framework for collaboration between HIA and Huawei for co-creation of innovative concepts, prototypes and solutions using cutting-edge technologies, particularly in the areas of IoT and autonomous machines, to address real business challenges and opportunities. The objective is to accelerate digital transformation at Hamad International Airport and to share the solutions with the community for wider benefit of the air transport industry. Through this cooperation, HIA aims to improve the passenger experience, enhance security and communication, and increase operational efficiency.
Hamad International Airport, located in Doha, Qatar, recently joined the exclusive ranks of global airports awarded the prestigious '5-Star Airport' designation by Skytrax, the London-based aviation institute and the gold standard for conveying the passenger's voice in airport and airline rankings. This makes HIA the first airport in the Middle East to earn this acclaimed title and the 6th airport globally to be rewarded that accreditation. Also, Hamad International Airport won the 'West Asia-Best Airport' award for two consecutive years in 2015 and 2016 by 'Future Travel Experience Awards – Asia'.
With digital technology transforming the airport experience, HIA aims to implement cutting-edge ICT solutions to continue offering a modern and efficient environment for a growing number of passengers.
Commenting on the cooperation with Huawei, Eng. Badr Mohammed Al Meer, Chief Operating Officer at HIA said: "Innovative technology will continue to drive digital transformation at Hamad International Airport. Through this strategic alliance with Huawei, which also provides access to its eco-system of niche partners, we aim to accelerate our journey and to demonstrate our commitment to the industry by sharing viable concepts and solutions that may be developed through this partnership."
Xilin Yuan, President of the Transportation Sector of Huawei's Enterprise Business Group, said: "It is a great pleasure for Huawei to collaborate with Hamad International Airport to enable a Smart Airport that can meet the future demands of passenger flows as well as the needs of digital-savvy customers. By placing digital transformation at the heart of its commercial strategy, HIA will deliver a user-centric connected experience to continue delighting its customers."
Huawei has provided a wide range of ICT solutions for airports, airlines, and air traffic control authorities across the world, enabling them to achieve digital transformation and improve their service capabilities, operational efficiency, and revenue growth. These ICT solutions include indoor/outdoor modular data centers, servers and storage devices, converged cloud platforms, Big Data analytics platforms, and integrated wired/wireless communications solutions.
By the end of 2016, Huawei provided ICT products, solutions, and services for more than 40 airports, airlines, and air traffic control authorities worldwide. That includes more than 15 global airports with more than 30 million annual passengers and the 10 busiest airports in China by passenger traffic.
Dubai Airport Show 2017 is held from May 15-17 at Dubai World Trade Centre (DWTC). Attendees can visit Huawei's booth at Stand 4140.
About Huawei
As a leading ICT solutions provider, Huawei is committed to providing innovative and customized products, services and solutions to create long-term value and growth potential for its customers. Together with partners, Huawei offers solutions for vertical industry and enterprise customers globally including government and public sectors, transportation, power grids, energy, and finance, as well as commercial enterprise in many fields. These innovative and leading solutions cover network infrastructure, UC&C, cloud computing & data center, and industry application solutions. Through continuous customer-centric innovation, Huawei have established end-to-end advantages in Telecom Network Infrastructure, Application & Software, Professional Services and Devices.