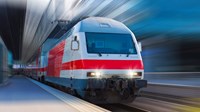 Huawei, a leading global Information and Communications Technology (ICT) solutions provider, announced today that it has won a major railway contract with Kenya, and will build a train-to-ground communications solution fully integrated with train signal systems for Kenya's Mombasa-Nairobi railway line.
This is the first time that Huawei's railway operational communications solution has been applied in East Africa's railway network, to provide the GSM-R dispatching communications network as well as backbone optical transmission network, clock and synchronization system, and power and environment monitoring system to the region. Before winning this major and complicated project that involves multiple communications systems, Huawei has been awarded contracts to provide similar services for a number of projects on the African continent, including a light rail project in Ethiopia, the Chingola-Livingstone railway project in Zambia, and the PRASA GSM-R project in South Africa.
Construction of the Mombasa-Nairobi railway line began in October 2013. As the first new line that has been constructed by Kenya for the past century, the Mombasa-Nairobi line has a pivotal role in East Africa's railway network. The line runs across Kenya's territory from the southeast to the northwest, starting from Mombasa, the biggest port along the east coastline of Africa, to Nairobi, Kenya's capital and the largest city in East Africa. The 472 km-long Mombasa-Nairobi railway line is the starting point of East Africa's railway network and has a designed freight capacity of 25 million tons. With a total investment of US$3.8 billion, the Mombasa-Nairobi railway line adopts the Chinese Railway Level 1 standards, and is a flagship project under the Kenya Vision 2030 development agenda, connecting Kenya's coastal area to East Africa's inland.
Huawei was awarded this project with its industry-leading wireless solution R&D capability in railway communications, which enables it to provide end-to-end highly reliable railway operational communications solutions to help Kenya address the challenges it faces during the Mombasa-Nairobi railway operation. According to the timetable of the owner of the Mombasa-Nairobi railway line, the entire project will be completed in June 2017.
Ensuring Safe and Reliable Train Operation with Full Redundancy of All Network Elements
As a system that implements mission-critical tasks such as train dispatching, data transmission, and information exchange, the railway operational communications system has exceptionally high requirements on security and reliability. Having a deep understanding of the needs of the Mombasa-Nairobi railway line, Huawei provides the customer a railway operational communications solution that features the most comprehensive redundancy design in the industry across all network elements, coupled with multiple Huawei technologies and protection mechanisms, and ensuring 99.999% communications system availability through optimized system fault detection and isolation measures. Reliable and stable power supplies are of extreme importance to maintain outstanding availability for rail communication systems. As part of the contract, Huawei's premium power supply solution and Uninterruptible Power Supply (UPS) products that feature security, reliability, economy, and operability will be deployed. The solution and products meet the customer's requirements on backup power and provide highly reliable power supplies for communications systems, data centres, and security systems along the entire railway line.
Supporting Smooth All-IP Evolution and Maximizing Return on Investment with Forward and Backward Compatibilities
The great scale and complexity of railway communications systems require scrupulous investment. To adapt to the trend of IP evolution of communications networks and maximize Return on Investment (ROI) during the evolution, Huawei railway operational communications solution provides wireless and wired networks that support smooth evolution to all-IP services. Among the Huawei products used in this project, the core network system eCNS300 adopts the Advanced Telecom Computing Architecture (ATCA) platform that is consistent with Long Term Evolution (LTE), and the BTS3900 dual-mode base station supports both GSM-R and LTE modes, enabling the future smooth migration from GSM-R to LTE for Rail and ensuring a high ROI. The transmission network uses Huawei's next-generation Hybrid MSTP transmission devices that support Synchronous Digital Hierarchy (SDH)/IP dual planes to bear not only pure Time Division Multiplexing (TDM) services, but also integrated IP data services, enabling efficient transmission of massive data services and smooth all-IP evolution.
After completion, the Mombasa-Nairobi railway line's GSM-R network will carry multiple communications tasks, including mission-critical train dispatch, emergency communications, section maintenance communications, and transmission of train control data along the entire line. The network will meet the customer requirements for safe, stable, efficient, and reliable railway operations, increase both the passenger and freight capacity of the Mombasa-Nairobi railway line, promote regional economic growth, and bring East African economies closer to each other.
Huawei: a Leader in Global Railway Operational Communications Market
More than 100,000-km railway lines around the globe have adopted Huawei's advanced ICT solutions, among which 45,000-km railway lines adopt the GSM-R technology and support ERTMS/ETCS Level 2 or CTCS Level 3 train signaling systems. With innovative solutions, quality products, devoted service, and globalized delivery and maintenance platforms, Huawei collaborates with partners to build a better connected railway for railway customers across the globe.
About Huawei
As a leading ICT solutions provider, Huawei is committed to providing innovative and customized products, services and solutions to create long-term value and growth potential for its customers. Together with partners, Huawei offers solutions for vertical industry and enterprise customers globally including government and public sectors, transportation, power grids, energy, and finance, as well as commercial enterprise in many fields. These innovative and leading solutions cover network infrastructure, UC&C, cloud computing & data center, and industry application solutions. Through continuous customer-centric innovation, Huawei have established end-to-end advantages in Telecom Network Infrastructure, Application & Software, Professional Services and Devices.
With comprehensive strengths in telecommunication technologies, Huawei has gained a leading position in the All-IP convergence age including solutions in railway communications where a number of advanced Huawei's ICT solutions were selected along 78,000+ km of railway lines globally. Huawei's ICT solutions cover rail-operational voice and data communication (GSM-R) as well as non-operational communication such as LTE, CCTV, transmission networks, WIFI just to name a few. With the continuous investment and innovation in the ICT area, Huawei, the fastest growing global mobile supplier, has become a reliable partner for many railway operator and top-tier system integrator.