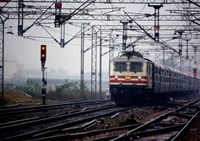 Huawei, a leading global Information and Communications Technology (ICT) solutions provider, announced on June 1 that the railway operational communications network it built for Kenya's Mombasa-Nairobi rail project was put into commercial use. Huawei's Digital Railway Solution enables multiple communications tasks, including mission-critical train dispatch, emergency communications, section maintenance communications, secure transmission, and ensures stable power supply along the entire line. The solution will meet customer requirements for safe, stable, and efficient railway operations and ensure highly reliable communications for the railway.
As the first new line that has been constructed in Kenya for the past century, the Mombasa-Nairobi railway runs across Kenya's territory from the southeast to the northwest, starting from Mombasa, the biggest port along the east coastline of Africa, to Nairobi, Kenya's capital and the largest city in East Africa. The line has a pivotal role in East Africa's railway network and has paved the way for standard-gauge rail links in the area. The line is part of a long-term plan to connect a vast network of rails from Kenya, through Uganda and Burundi, and up to South Sudan. This railway artery in East Africa will provide convenient transportation and promote regional collaboration, integration, economic growth, and social development.
The high speeds and short departure intervals of modern railway require secure, stable, and reliable train operations. Huawei's Digital Railway Solution provides the Mombasa-Nairobi Railway with a full suite of core systems such as a highly-reliable, industry-leading railway operational communications system, a large-bandwidth unified transmission system which adopts soft and hard pipes to protect train control and other mission-critical services, a modular and highly efficient power supply system, and an environment monitoring system which enables great scalability and intelligent management. The core systems ensure safe train operations.
Huawei's next-generation GSM-R solution has been deployed to build the train-to-ground communications network. With end-to-end redundancy backup and 99.999% availability, the network guarantees stable transmission of train control signals. Based on mature hardware platforms, the next-generation BTS3900 GSM-R base stations support smooth migration to LTE-R. The transmission network uses Huawei's cutting-edge Hybrid MSTP transmission devices that support SDH/IP dual planes. The SDH hard pipes and IP soft pipes comprehensively bear multiple services without compromising the reliability of mission-critical service transmission. In addition, Huawei's premium communication power supply and Uninterruptible Power System (UPS) products are installed to meet diversified customer requirements on backup power, ensuring high-quality power supplies for communications systems, data centers, security systems, and other critical loads.
The safe and efficient operations of the Mombasa-Nairobi Railway will provide significant support for Kenya's passenger and freight transportation, and thus the economic growth. At the same time, the Railway will bring East African economies closer to each other.
To date, Huawei's Digital Railway Solution has been deployed to serve more than 100,000 kilometers of railway worldwide. Major digital railway projects include those in Germany and South Africa, as well as high-speed rail lines in China and Spain. With innovative solutions and global delivery capabilities, Huawei is committed to building a better connected railway along with partners and customers in the rail sector across the globe.
About Huawei
As a leading ICT solutions provider, Huawei is committed to providing innovative and customized products, services and solutions to create long-term value and growth potential for its customers. Together with partners, Huawei offers solutions for vertical industry and enterprise customers globally including government and public sectors, transportation, power grids, energy, and finance, as well as commercial enterprise in many fields. These innovative and leading solutions cover network infrastructure, UC&C, cloud computing & data center, and industry application solutions. Through continuous customer-centric innovation, Huawei have established end-to-end advantages in Telecom Network Infrastructure, Application & Software, Professional Services and Devices.