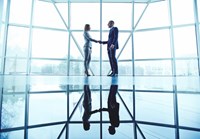 The 5th International Railway Summit will be hosted in association with the International Union of Railways (UIC) and Huawei Technologies Co., Ltd., the global information and communications technology (ICT) solutions provider. The summit, a comprehensive networking event for the railway industry, is organised by IRITS Events and will take place in Kuala Lumpur from November 15 to 17, 2017, which is the first time this event is held in Asia.
UIC is the worldwide professional association which represents 200-member organisations in 100 countries, encompassing 1 million km of rail track. The association helps members meet sustainable development and mobility challenges, creates standards and common solutions, and proposes new ways to improve technical performance, competitiveness and cost-efficiency. UIC develops and facilitates cooperation and the sharing of best practices among members.
Huawei has established an end-to-end ICT solutions portfolio that gives customers competitive advantages in telecom and enterprise networks, intelligent devices and cloud computing. It's innovative ICT solutions, products and services are used in more than 170 countries and regions. To date, Huawei's Digital Railway solution has been applied in more than 120,000 kilometers of rail lines by over 50 global rail construction companies and operation companies, including five of the top 10 rail operators.
The 5th International Railway Summit will feature a full 2-day conference programme with speeches delivered by industry leaders and experts, as well as concurrent bespoke one-to-one consultation meetings between buyer and expert companies.
The conference programme is organised under the theme of Social and Economic Sustainability for Rail Transport and will address the pressing issues facing rail today and in the decades to come.
UIC's Director General, Jean-Pierre Loubinoux will deliver a keynote speech as part of a session on the Economics of High Speed Rail, along with Mohd Azharuddin Bin Mat Sah, CEO of Malaysia's Land Public Transport Commission (SPAD). Subsequently, Marc Antoni, UIC's Director of Rail Systems, will take part in a panel discussion on Standardisation for Cross-border Transport.
Yuan Xilin, President of the Transportation Sector of Huawei Enterprise Business Group, will make a keynote speech in a dedicated conference session on Digital Railway Transformation. This session will also include interventions from Francis Bedel, UIC's Chief Digital Officer, Dr Prodyutt Dutt, Chief Development Officer of SPAD, and Prasarana's Chief Strategy & Information Officer, Ezwan Hazli Abdul Malek.
Other conference sessions will debate congestion in urban networks, investment in freight corridors, and intermodal passenger transport.
During the Summit, Huawei will showcase its latest platforms, technologies and solutions to accelerate digital railway transformation, such as Railway IoT, Urban Rail Cloud, Rail operational communication network.
Jean-Pierre Loubinoux, Director General of UIC remarked: "UIC is happy to collaborate on the 5th International Railway Summit, which underlines the ever-increasing importance of safety in the daily operations of railways. Beyond the existing processes, transparent benchmarks and the sharing of experience from all stakeholders is certainly a must to make the most of efficient collaboration. Obviously, digital is a new element to take into consideration in the development of technologies and the necessity to anticipate, as much as possible, an endogenous approach to cyber security in all safety devices."
Yuan Xilin, President of the Transportation Sector of Huawei Enterprise Business Group, said: "It is a great pleasure for Huawei to share the latest rail industry trends, innovative solutions and global application cases with leaders of key rail operators, rail infrastructure owners, as well as international rail authorities. Huawei is dedicated to joint innovation with customers and partners in fields such as cloud computing, IoT, Big Data, communications networks, and other new ICT technologies. We aim to become a preferred partner in railway digital transformation projects that help customers to further improve operational safety, operational efficiency, and passenger experience."
Jules Omura, Managing Director of IRITS Events, commented: "We are delighted to organise the 5th International Railway Summit in association with UIC and Huawei. UIC's unique position representing and promoting the global railway industry will significantly enhance the quality and reach of the summit. As the world's leading information and communications technology (ICT) solutions provider, Huawei are active across a vast range of sectors and will bring great skill and expertise to the Kuala Lumpur meeting. We look forward to working closely with them to make the summit a success."
About Huawei
As a leading ICT solutions provider, Huawei is committed to providing innovative and customized products, services and solutions to create long-term value and growth potential for its customers. Together with partners, Huawei offers solutions for vertical industry and enterprise customers globally including government and public sectors, transportation, power grids, energy, and finance, as well as commercial enterprise in many fields. These innovative and leading solutions cover network infrastructure, UC&C, cloud computing & data center, and industry application solutions. Through continuous customer-centric innovation, Huawei have established end-to-end advantages in Telecom Network Infrastructure, Application & Software, Professional Services and Devices.
About International Union of Railways (UIC)

UIC mission:
to promote rail transport at world level and meet the challenges of mobility and sustainable development.
Main UIC objectives:
facilitate the sharing of best practices among members (benchmarking)
support members in their efforts to develop new business and new areas of activities
propose new ways to improve technical and environmental performance
promote interoperability, create new world standards for railways (including common standards with other transport modes)
develop centres of competence (High Speed, Safety, Security, e-Business, …)