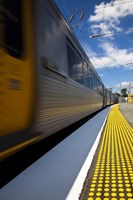 Leveraging its industry-leading solution Research and Development (R&D) capabilities and professional technical services in the railway communications sector, Huawei recently won the bid for ProRail's video surveillance project in the Netherlands. It will help ProRail deploy an overall digital railway video surveillance solution on its network.
Teaming up with VCS, Huawei has now successfully broken into the Dutch railway industry which has traditionally been monopolized by Bosch and AXIS. The project marks the first breakthrough for Huawei's Digital Railway Video Surveillance Solution into the high-end rail market in Western Europe, setting a promising precedent for further high-end market developments around the globe.
The solution will also play a crucial role in ensuring the reliable operation of passenger and freight railway transportation in the Netherlands, promote regional economic development, and cement closer ties between Western European countries.
ProRail is a government tasked organization in the Netherlands that takes care of maintaining and extending the national railway network infrastructure, allocating rail capacity, and operating traffic control. ProRail is Huawei's strategic NA in the Netherlands, whose projects involve Huawei's overall solutions in multiple ICT fields such as IP and IT.
With increasingly heavier passenger and cargo traffic, as well as a growing number of trains, ProRail is facing great challenges. The existing outdated analog surveillance system does not support IP features and high resolution pixels, and lacks real-time statistics and effective monitoring of passenger traffic. The old system cannot meet new operation requirements, which leads to serious traffic congestion and even accidents on occasion. Currently, ProRail urgently needs a comprehensive HD video surveillance solution and unified storage management solution to guarantee safe and efficient railway operation.
Huawei's Digital Railway Video Surveillance Solution provides a wide variety of Huawei's cutting-edge products such as HD cameras, integrated servers and storage devices. The solution fully meets ProRail's requirements on operation safety, stability, reliability, and efficiency, helping the customer build an optimal railway video surveillance network.
Huawei also worked together with its partner VCS on the overall solution to ensure that it met ProRail's stringent technical requirements. The solution underwent a series of demanding tests and successfully passed them all. After more than two years of these tests, the two parties impressed ProRail and finally signed the contract for the nationwide network project.
Huawei's real-time video surveillance systems will be deployed along all railway lines and at all depots of ProRail within the Netherlands, as well as the entire Pan-European freight rail network extending from the Port of Rotterdam to inland regions.
The Phase 1 project is scheduled to be delivered by the end of 2016. Currently, the testing and delivery of the first site has been completed, signifying that Huawei's Digital Railway Video Surveillance Solution has passed the customer's onsite verification and will soon be implemented on a large scale at all major stations in the Netherlands, providing a huge boost to the country's rail transport development.
About Huawei
As a leading ICT solutions provider, Huawei is committed to providing innovative and customized products, services and solutions to create long-term value and growth potential for its customers. Together with partners, Huawei offers solutions for vertical industry and enterprise customers globally including government and public sectors, transportation, power grids, energy, and finance, as well as commercial enterprise in many fields. These innovative and leading solutions cover network infrastructure, UC&C, cloud computing & data center, and industry application solutions. Through continuous customer-centric innovation, Huawei have established end-to-end advantages in Telecom Network Infrastructure, Application & Software, Professional Services and Devices.