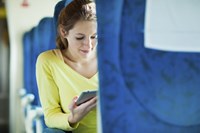 The 7th World Passenger Symposium (WPS) is held by the International Air Transport Association (IATA) from October 24 to 26 at the Barcelona International Convention Centre.
More than 700 senior executives in the aviation industry are invited to the event to discuss how to reshape passenger experience through digital transformation. Huawei, as the Principal Sponsor, made its debut in the symposium in the European aviation industry. It displayed a full suite of ICT solutions covering aviation hybrid cloud, passenger Big Data, baggage tracking, and airport visualized operations. The solutions help deliver an enhanced passenger experience throughout a journey and increase aviation enterprises' operational efficiency and revenues.
Huawei Provides Aviation Customers with End-to-End Digital Transformation Solutions
Authoritative reports show that the global aviation industry's ICT investments are mostly influenced by upgrades of passenger service items, travel safety, mobile commerce, and new technologies. Driven by these factors, airports are transforming toward smart operations and digital development. A smart airport pays greater attention to safe and efficient airport operations enabled by visualized management. To achieve this, powerful ICT infrastructures and excellent solutions are urgently needed.
Yuan Xilin, President of the Transportation Sector of Huawei Enterprise Business Group, made a keynote speech in front of more than 700 participants representing global airlines and airports. He shared Huawei's best practice in pan-industry and what it brings to the aviation industry, saying that: "Digital transformation is a long but urgent process. On the journey to digital aviation, it is a prevailing trend for enterprises to connect to cloud, particularly hybrid cloud. Huawei provides innovative, differentiated, and advanced ICT infrastructure to build an open, scalable, flexible, and secure platform. We also collaborate with global partners to provide aviation customers with end-to-end digital transformation solutions."
Huawei is a preferred partner for the aviation industry in digital transformation. Based on technology-driven innovation, a deep understanding of customer requirements, and unique expertise, it is committed to offering customers the optimal ICT experience and assistance to quick service deployment. Huawei has been working with industry-leading airports and airlines on innovative construction models for aviation clouds, passenger experience improvement solutions, and airport visualized operations solutions. The company has a large number of implementation cases in the global market in fields such as cloud computing, the Internet of Things (IoT), Big Data, and communications networks. It also has extensive experience in delivering more than 50 aviation industry projects in 18 countries worldwide, supported by its local teams and abundant ecosystem partners in more than 170 countries and regions.
Huawei's Aviation ICT Solutions Drive Improvements in the Passenger Experience
At this year's WPS, Huawei has a large booth space for showcasing its aviation-oriented ICT capabilities under the theme 'Leading New ICT, The Road to Digital Aviation.'
The Huawei Aviation Cloud exhibition area displays Huawei's hybrid cloud solution, Big Data platform, cloud-based data center network, and smart modular data center solutions. The cloud-based network solution brings more quick-to-deploy and affordable IT solutions for enterprise branches. Huawei has launched an end-to-end aviation cloud solution and agile WAN solution based on leading ICT technologies such as cloud computing, Big Data, and communications networks. The solutions focus on operation, management, and services of aviation customers, helping improve airlines' New Distribution Capability (NDC) capabilities, ensure high reliability of critical systems, and accelerate global service deployment.
Passenger experience is the focus of this year's WPS. Huawei's booth also has a section highlighting airport experience. Huawei uses Big Data application and artificial intelligence to help airlines quickly build passenger Big Data systems, which enable airlines to provide personalized and value-added services for passengers. Huawei's video cloud platform, based on its partner YITU's facial recognition system, improves travel experience at airports by giving every passenger a unique biometric ID. Huawei's agile campus solution, plus WLAN LBS services offered by 7G, allows passengers to enjoy personalized services based on their locations and other information. Huawei has also showcased how narrowband IoT (NB-IoT) technologies are applied to asset tracking, and held discussions with industry experts about innovative practices of IoT-enabled baggage tracking.
To date, 197 out of Fortune 500 enterprises and 45 out of Top 100 enterprises have chosen Huawei as their partner for digital transformation. By the end of 2016, Huawei has provided ICT infrastructure for more than 50 airports, airlines, and air traffic control authorities around the world. The customers include more than 10 busiest airports in China and more than 15 global airports with more than 30 million annual passengers.
The IATA is a non-profit and non-government industry organization of the world's airlines. Founded in April 1945, it has 271 members by the end of March 2017. The member airlines account for carrying approximately 83% of total Available Seat Kilometers air traffic.
WPS is a unique event that drives the passenger agenda forward with representatives of the entire air travel value chain under one roof.
About Huawei
As a leading ICT solutions provider, Huawei is committed to providing innovative and customized products, services and solutions to create long-term value and growth potential for its customers. Together with partners, Huawei offers solutions for vertical industry and enterprise customers globally including government and public sectors, transportation, power grids, energy, and finance, as well as commercial enterprise in many fields. These innovative and leading solutions cover network infrastructure, UC&C, cloud computing & data center, and industry application solutions. Through continuous customer-centric innovation, Huawei have established end-to-end advantages in Telecom Network Infrastructure, Application & Software, Professional Services and Devices.
With comprehensive strengths in telecommunication technologies, Huawei has gained a leading position in the All-IP convergence age including solutions in railway communications where a number of advanced Huawei's ICT solutions were selected along 78,000+ km of railway lines globally. Huawei's ICT solutions cover rail-operational voice and data communication (GSM-R) as well as non-operational communication such as LTE, CCTV, transmission networks, WIFI just to name a few. With the continuous investment and innovation in the ICT area, Huawei, the fastest growing global mobile supplier, has become a reliable partner for many railway operator and top-tier system integrator.