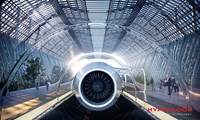 Hyperloop Transportation Technologies (HTT) announced today the signing of an agreement for a feasibility study with a contract value of 2.5 Million USD with private investors. This agreement marks the immediate exploration of the feasibility for a Hyperloop™ system for Indonesia with an initial focus on Jakarta and a full exploration of Hyperloop transportation connecting Java and Sumatra.
This is the first Hyperloop™ agreement in Southeast Asia. In the past year, HTT has made multiple historic deals and is currently working directly with regulators and governments including:
Development of a route from Bratislava, Slovakia to Brno, Czech Republic.
A research and development center in Toulouse, France.
Development of a route connecting Abu Dhabi to Al Ain under the patronage of HH Sheikh Falah Bin Zayed Al Nahyan.
A multitude of similar government agreements is expected this year as HTT continues to create private-public partnerships to develop route studies and the necessary regulatory framework for the Hyperloop™ systems worldwide.
With a population of over 260 million, Indonesia is the fourth most populated country in the world. The city of Jakarta, with a population of over 10 million people, faces some of the worst traffic in the world with a commonplace daily four-hour commute. An estimated 70% of the air pollution comes from vehicles. A Hyperloop™ system would go to great lengths to help solve these issues. For example, a Hyperloop™ route from Jakarta to Yogyakarta would take approximately 25 minutes, compared to nearly 10 hours via automobile. Jakarta to neighboring Bandung would take 9 minutes, versus the current 2.5 hours, and a Hyperloop™ connecting Jakarta Soekarno-Hatta International Airport to the Jakarta city center would take 5 minutes, compared to 30 minutes.
"Indonesia, and Jakarta, in particular, is one of the most densely populated areas in the world," said HTT Chairman, Bibop Gresta. "With traffic and congestion being such a big issue there, the Hyperloop will be a welcome transformation for the region."
"The Hyperloop will affect the full spectrum of life, from business to quality of life to sustainability," said Dwi Putranto Sulaksono, Founder of The Dwiyuna Jaya Foundation, the local partner. "We are happy to create this partnership with HTT which will create a positive impact for Indonesia."
"We have been in negotiations directly with a wide multitude of governments around the world for over two years now," said Dirk Ahlborn, CEO of HTT. "Now that we are ready to build our first system, developing the necessary regulatory framework is the most important step."
About Hyperloop Transportation Technologies (HTT)
Hyperloop Transportation Technologies, Inc. (HTT) was founded in November 2013, birthed of JumpStartFund—a unique crowdfunding and crowdsourcing incubator platform that uses collective knowledge and assets to make ideas like Hyperloop™ a reality. HTT is a collaborative organization built within the egalitarian ecosystem of a company that values every one of its contributors—both individual and entity. Collaborations with groups such as Atkins, Leybold Corporation, and Deutsche Bahn have resulted in tremendous advancement of the Hyperloop™ transportation system, setting the stage for commitments to installations in Quay Valley, California, Slovakia, Toulouse, Brno, Czech Republic, and Abu Dhabi in partnership with the Sheikh. More agreements are set to be formally announced during 2017.
HTT has an exclusive agreement with Lawrence Livermore National Laboratory for use their passive magnetic levitation system as the core of low-cost, safety-conscious construction and design in the Hyperloop™. The company is partnered with more than 600 professional team members who provide the company with engineering, physics, legal, human resources, media relations, logistics, and construction talent to fuel a company that is uniquely collaborative and talent-laden. In support of these endeavors and the global team, HTT announced the surpassing of $100 million in investments in December of 2016.