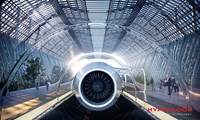 Hyperloop Transportation Technologies (HTT) has begun construction of the world's first full-scale Passenger Hyperloop™ Capsule. This first capsule is the culmination of over three years and thousands of hours of design, research, and analysis.
Construction is underway for delivery and an official reveal in early 2018 at HTT's R&D center in Toulouse, France for integration and optimization. The capsule will then be utilized in a commercial system soon to be announced from the ongoing negotiations and feasibility studies currently taking place around the world.
HTT's passenger capsule is being built in collaboration with Carbures S.A., a leading expert in fuselage and advanced materials construction in both aeronautics and aerospace. The final specs for the capsule are:
Length: 30 meters (98.5 feet)
Diameter: 2.7 meters (9 feet)
Weight: 20 tonnes
Passenger capacity: 28-40
Speed: Up to 1223 km/h (760 mph)
"We are building the world's first full scale passenger hyperloop capsule," HTT CEO Dirk Ahlborn said. "We are taking a passenger first approach to guarantee that safety is always our number one concern. It has been crucial in our development to go past the simple requirements of freight in order to build a better and safer system for everyone."
"This is a fascinating project utilizing our expertise and technology around the world," said Carbures Cofounder and Chairman Rafael Contreras. "We are pleased to work in this innovative, global, and important project."
"Carbures is a consolidated leader in the structural composites world with over 15 years of experience," said HTT Board Member Ramón Betolaza. "With over 1000 employees, eight manufacturing plants and five engineering centers, they are the perfect partner for HTT."
Carbures works on a global level with fuselages for the aviation industry. Their global positioning is especially well placed for the growing number of regions, including France, Czech Republic, Slovakia, Indonesia, and the United Arab Emirates, currently working with HTT to develop Hyperloop™ systems with more regions to be announced soon.
"We have some of the best global talent as part of our team," said HTT Chairman Bibop Gresta. "Tapping into this expertise ensures we are able to build not just faster, but better. Hyperloop comes to life because we're building this company in a smarter way."
About Hyperloop Transportation Technologies
Hyperloop Transportation Technologies, Inc. (HTT) was founded in November 2013, from JumpStartFund—a unique crowdsourcing incubator that leverages knowledge and assets to make ideas like Hyperloop™ a reality. HTT was formed to advance the technical and economic knowledge base of the Hyperloop™ transportation system; to develop and construct a full-scale research, prototype development and evaluation facility; and to implement the commercial deployment of an end-to-end Hyperloop™ ecosystem to address the ever-increasing intercity transportation needs of our society in a safe, affordable, and environmentally sustainable manner.
HTT has an exclusive agreement with Lawrence Livermore National Laboratory for use of their passive magnetic levitation system as the core of low-cost, safety-conscious design and construction of the Hyperloop™. Since its founding, HTT has grown quickly to include over 800 highly experienced engineers, architects, scientists, computer modelers, transportation planners and construction professionals working collaboratively to plan, design and construct this entirely new mode of transportation.
About Carbures S.A.
CARBURES is a technological industrial group specialized in the manufacturing of composite parts and structures and in designing engineering systems, which operates in the aerospace, automotive, civil works, railway and security industries. CARBURES has almost 1,000 employees that operate in 18 plants in seven countries (China, Germany, Mexico, Poland, France, Spain and the US) from three continents: America, Asia, and Europe. carbures.com