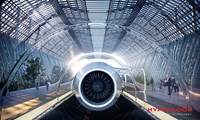 Hyperloop Transportation Technologies (HTT) announced today the signing of an agreement with the city of Toulouse, France to open a facility for the development and testing of Hyperloop-related technologies. As part of this agreement the city, known worldwide as "Aerospace Valley," is providing a 3,000 square meter (37,674 sq. ft.) facility along with outdoor terrain. This announcement comes shortly after HTT's announcement of surpassing $100 million in in-kind and equity investment.
"Our new center in Toulouse will help us continue to develop and manufacture important aerospace technology which will further improve the system," said HTT CEO Dirk Ahlborn. "The talent pool in the region allows us to hire some of the brightest minds in aerospace."
"Hyperloop Transportation Technologies represents the cutting edge of transportation," said Jean-Luc Moudenc, Mayor of Toulouse and President of Toulouse Métropole. "This new collaborative corporation is already having a big impact on Europe and the rest of the world. We look forward to the exciting advancements that HTT will develop here."
"Toulouse is the heart of Europe's aerospace industry so it is only natural that we have a presence there amongst many of our partners and peers," said HTT Chairman Bibop Gresta. "We are grateful to the community of Toulouse for welcoming us with open arms."
"Our close relationship with the local government is exactly what is needed to implement Hyperloop systems in Europe," said HTT COO Andres De Leon. "While developing our technology we will also work together to create the necessary regulatory framework for the system."
The new HTT Toulouse Research and Development Facility will be located at the Francazal Airport, a former military base being converted into a larger Mobility innovation Park by Toulouse Métropole. HTT worked closely with So Toulouse, an agency bringing investment to the area, along with Metropole, as key partners on the agreement.
This announcement marks the fourth development deal directly with a government and is the latest in a series of important developments for HTT this month, including: the signing of Brno, Czech Republic connecting to Prague and Bratislava, the development deal formed directly with the nation of Slovakia in 2016, and the official strategic partnership agreement with the office of His Highness Sheikh Falah Bin Zayed Al Nahyan in Abu Dhabi yesterday. At the end of 2016 HTT announced a development deal with the Department of Municipalities and Transportation of Abu Dhabi to develop a route connecting the city of Abu Dhabi with the neighboring city of Al Ain.
About HTT
Hyperloop Transportation Technologies, Inc. (HTT) was founded in November, 2013, birthed of JumpStartFund—a unique crowdfunding and crowdsourcing incubator platform that uses collective knowledge and assets to make ideas like Hyperloop™ a reality. HTT is a collaborative organization built within the egalitarian ecosystem of a company that values every one of its contributors—both individual and entity. Collaborations with groups such as Atkins, Leybold Corporation, and Deutsche Bahn have resulted in tremendous advancement of the Hyperloop™ transportation system, setting the stage for a commitment to an installation in Quay Valley, California.
HTT has an exclusive agreement with Lawrence Livermore National Laboratory for use of their passive magnetic levitation system as the core of low-cost, safety-conscious construction and design in the Hyperloop™. The company is partnered with more than 600 professional team members who provide the company with engineering, physics, legal, human resources, media relations, logistics, and construction talent to fuel a company that is uniquely collaborative and filled with talent.