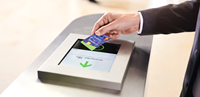 Barcelona is Spain's second largest urban area and according to Juniper Research one of the smartest cities in 2015. The new "T-Mobilitat" electronic fare collection system will further improve urban mobility. Infineon Technologies AG supplies the security chips for the "T-Mobilitat" infrastructure – for both the chip-based tickets, that work contactless, as well as validators based on the advanced security standard CIPURSE™.
The approximately five million inhabitants of Barcelona and its surroundings will benefit in several ways: The "T-Mobilitat" smart card will provide all-in-one access to the city's transport network including Barcelona's metro system, bus or any other transportation means. All limited use paper tickets such as the popular T-10 ticket package will also be replaced by more convenient chip-based solutions. In addition, "T-Mobilitat" will also enable a user to rent a bicycle at the train station or pay at toll barriers on motorways. In the long run, Catalonia's entire mobility will be powered by chip technology.
"The new mobility solution in Barcelona shows how modern security technology from Infineon improves the daily lives of people in metropolitan areas," said Thomas Rosteck, Vice President and General Manager at the Chip Card & Security Division of Infineon Technologies. "A single contactless solution for transportation, payment and other applications is convenient and a great advantage – not only during rush hour. Our chips transmit data to the reader so quickly and securely that passengers don't even need to take the ticket out of their purse or pocket when passing turnstiles or accessing busses".
The metropolitan transportation authority ATM (Autoritat del Transport Metropolità) will start switching the electronic ticketing system of the metropolitan region of Barcelona from magnetic stripe cards to chip-based tickets in 2016. In the second phase, the system will also be rolled out into the region of Catalonia. The "T-Mobilitat" ticket is issued as a transport app or an all-in-one ticket in the form of a smart card. Here, user data is stored on the Infineon CIPURSE™ Security Controller. With this product, Infineon is the first certified supplier to ATM for the "T-Mobilitat" project.
"Smart transportation infrastructure is key for sustainable urban development," explains Josep Anton Grau i Reinés, CEO of the ATM. "With the 'T-Mobilitat' project based on the CIPURSE security standard we implement a very flexible, cost-efficient and particularly future-proof system. It allows us to offer multiple applications on various contactless devices including smart cards and mobile phones. This will increase passengers' convenience and make public transportation more attractive".
The decision by the ATM in Barcelona marks an important milestone in the global launch of the new CIPURSE security standard of the OSPT Alliance. CIPURSE can work alongside existing individual solutions so there is the possibility of modernizing entire systems seamlessly and gradually. Another advantage is that the security standard is also designed for mobile devices such as NFC-enabled cellular phones or smart watches.
CIPURSE-based security products from Infineon hit the mark with data transfer rates that are far faster than the industry standard transaction time of 0.2 seconds on average, are based on a radio link that is particularly stable so that the data can be transmitted quickly while the person is still moving, meet requirements of the internationally recognized "Common Criteria" security standards and are certified by the OSPT Alliance, which defines the CIPURSE standard.
About ATM
The Autoritat del Transport Metropolità (Metropolitan Transport Authority or ATM) is a voluntary inter-administrative consortium set up in 1997, which all administrations can join that own collective public transport services, individually or via groups or bodies that represent them, which belong to the area comprising the counties of Alt Penedès, Baix Llobregat, Barcelonès, Garraf, Maresme, Vallès Occidental and Vallès Oriental. The aim of ATM is to organize the cooperation between the public administrations owning the collective public transport services and infrastructures in the area of Barcelona which form a part of it, as well as collaboration with those administrations which, such as the state government, are committed from a financial point of view or which own their own services or services that have not been assigned to other bodies.
About Infineon
Infineon Technologies AG is a world leader in semiconductor solutions that make life easier, safer and greener. Microelectronics from Infineon is the key to a better future. In the 2014 fiscal year (ending September 30), the company reported sales of Euro 4.3 billion with about 29,800 employees worldwide. In January 2015, Infineon acquired US-based International Rectifier Corporation with revenues of USD 1.1 billion (fiscal year 2014 ending June 29) and approximately 4,200 employees.