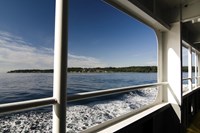 Passengers taking the Pierce County Ferry in Washington State are not only traversing the lower Puget Sound conveniently, they are also the first in the U.S. to enjoy fully electronic ticketing based on the CIPURSE™ open standard for electronic fare collection. The operator, HMS Ferries, Inc., now enables customers to purchase QR-code tickets on their smartphones, online or at the ticket booth at the Steilacoom Terminal, which speeds up the boarding procedure. The new system builds on the expertise of Infineon Technologies and Transportation Technology Partners, a new division of systems integrator and web development firm Americaneagle.com, the developer of the first account-based system for fare payment based on the CIPURSE standard. This provides high security, reliability and data integrity for the ferry company's operations.
The project start was marked by a couple of demands of HMS Ferries: First, the electronic ticketing platform should offer a convenient, state-of-the-art fare payment system for customers. Second, it must be flexible and scalable to meet future needs. Americaneagle.com chose the CIPURSE open standard technology for the smart card and mobile fare media because of its strong security and flexibility in system design. Infineon provided the CIPURSE move supporting account-based functionality: customers benefit from quick ticket validation with minimized risk of fraud.
"This is a groundbreaking project for transit fare collection as the first implementation in the US of CIPURSE fare media and a first in the world use of CIPURSE in an account-based system," said Chung Chung Tam, Senior Vice President at Americaneagle.com. "The result is a win-win that gives passengers a great experience and improves efficiency for HMS Ferries. Our collaboration with Infineon was mutually beneficial in combining the strengths of Americaneagle.com with the deep knowledge of CIPURSE."
With account-based systems, ticketing and transportation providers can reduce costs and can make payments secure and flexible. Travelers use mobile, smart card or paper tickets for the ferry system which they purchase on an online web portal, designed and operated by Transportation Technology Partners. For the mobile ticket and smart card account-based system, the fare product or value is stored and validated within the back office, where the value is also deducted.
"The CIPURSE open standard is a strong foundation for secured and flexible transit fare solutions," said Joerg Borchert, Vice President Chip Card & Security Americas. "As the industry migrates from proprietary collection systems, it's critical that technology solutions be able to evolve quickly to satisfy different business models. That's exactly what we were able to do for this project, as a development team implemented support for the customer's desired account-based system and now can make that support available for future projects."
Infineon and Americaneagle.com will be demonstrating the CIPURSE solution at the APTA Annual Meeting:
September 12-14, 2016
JW Marriott, Los Angeles

Booth #511
About Infineon Technologies
Infineon Technologies AG is a world leader in semiconductor solutions that make life easier, safer and greener. Microelectronics from Infineon is the key to a better future. In the 2014 fiscal year (ending September 30), the company reported sales of Euro 4.3 billion with about 29,800 employees worldwide. In January 2015, Infineon acquired US-based International Rectifier Corporation with revenues of USD 1.1 billion (fiscal year 2014 ending June 29) and approximately 4,200 employees.