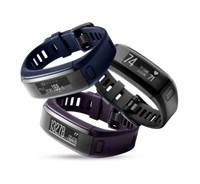 Users of public transport in Taiwan now have a new range of secured iPASS-ready wearables at hand: Infineon Technologies AG (FSE: IFX / OTCQX: IFNNY), one of the world's largest suppliers of security chips, provides its unique Boosted NFC secure element solutions for wearables performing secured transactions such as transport ticketing and micropayment. In the recently launched K.R.T. GIRLS themed wrist straps and Garmin's vivosmart HR fitness tracker, the proven and certified solution enables outstandingly reliable and fast contactless data transmission. Thus, they will further increase consumers' trust and acceptance of secured mobile payment.
Wearers of the Garmin fitness trackers for example, will be able to ride Taiwan's Metro Rapid Transit, Taiwan Railways, ferries, busses, taxis and public bike systems with a light tap of their wrist bands on the iPASS card readers. They can also pay at four major convenience store chains in Taiwan. Among these are 7-11 and FamilyMart covering 13,000 locations around the island at many tourist sites, gas stations and hospitals.
Boosted NFC SE – secures NFC payment in ultra-small devices
The transportation ticketing and micro payments functionalities are made possible with Infineon's Boosted NFC secure element solution. It offers:
Bank-level security – proven and reliable security based on globally recognized standards such as Common Criteria EAL5+/6+ and EMVCo;
Scalability – a range of boosted NFC SE products from 240 KB to 1 MB of embedded memory, scalable for single or multiple applications with over-the-air administration;
Small footprint with low power – requiring 80 per cent less printed circuit board footprint and only 75% stand-by power of conventional NFC solutions, both being crucial for smart wearable devices.
Infineon provides the industry's broadest portfolio of financial-level security chips and solutions that perform as crypto-engine and secured storage of sensitive data such as keys, certificates or biometric information for electronic payment transactions. Almost half of all chip-based payment cards issued worldwide in 2015 use security solutions from Infineon. To make cashless payment even easier and more convenient for consumers, Infineon has optimized its contactless technology for payment applications with even the smallest smart wearables.
About Infineon
Infineon Technologies AG is a world leader in semiconductor solutions that make life easier, safer and greener. Microelectronics from Infineon is the key to a better future. In the 2014 fiscal year (ending September 30), the company reported sales of Euro 4.3 billion with about 29,800 employees worldwide. In January 2015, Infineon acquired US-based International Rectifier Corporation with revenues of USD 1.1 billion (fiscal year 2014 ending June 29) and approximately 4,200 employees.